Fevicol Champions Club celebrates Vriksharopan Diwas in Bengaluru to mark 75th Independence Day
Over 1,000 wood-working contractors plant over 600 saplings across four cities in Karnataka; Bengaluru, Mangalore, Mysore and Hubli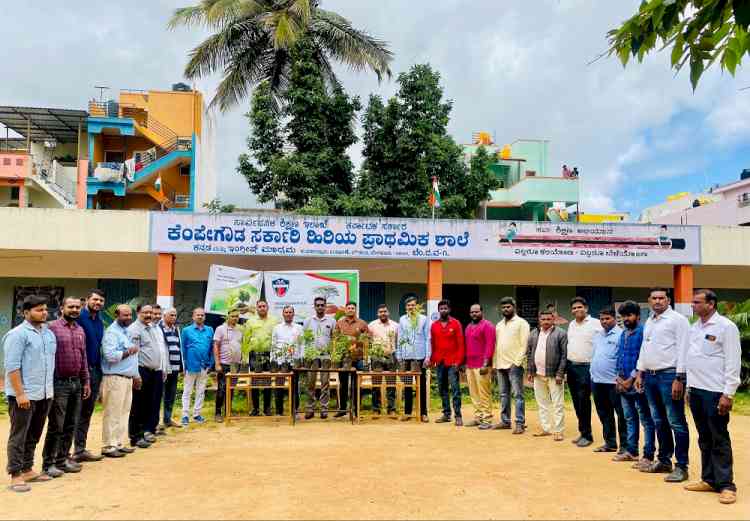 Bengaluru, August 12, 2022: Fevicol Champions' Club (FCC), an exclusive club for wood-working contractors, organized 'Vriksharopan Diwas' - a tree-plantation drive across Bengaluru to mark the 75th year of India's Independence. The wood-working contractors participated in this initiative by planting trees in Sri Kempegowda Government High School' and 'GHS Government School – Basavangudi'.
Over 1000 wood-working contractors participated in this initiative planting over 600 trees in government schools at five locations across four cities in Karnataka. The other locations included 'Government School Kamaripeth' in Hubli, 'Dhakshina Kannada Zila Panchayat Primary School' in Mangalore, and GPS School in Mysore.
In addition to this, Fevicol Champions' Club (FCC) also conducted a drawing competition in select government schools. With an aim to promote national integrity and independence, this initiative intends to further strengthen the 'Azadi Ka Amrit Mahotsav' message of hoisting the national flag at home and invoke a feeling of pride on the occasion of 75th year of India's independence.
A company spokesperson said, "As we celebrate the 75th year of Indian Independence, it gives FCC immense pleasure to celebrate Vriksharopan Diwas with those who are contributing towards nation building. FCC through its unique initiatives like Shramdaan Divas, education camps, medical check-up camps has always been contributing to the society welfare.  We are happy to see such tremendous participation and would like to convey our gratitude to our FCC volunteers and Government school authorities across these four cities in Karnataka. Moving forward, we will continue to support community and their endeavors."
Established in year 2002, Fevicol Champions Club (FCC) is a structured, voluntary and a self-sustaining body, that works towards encouraging capability building, skill enhancement and building goodwill in woodworking contractor and carpenter community through various social and professional activities. Today, FCC not only has office bearers for their respective chapters who contribute in the effective functioning of the club but also boasts of about 1800+ clubs in about 145 cities in its ambit and more than 180,000 members across the country.