Female kidney donors felicitated on women's day
Those felicitated included wives who donated kidneys to their counterparts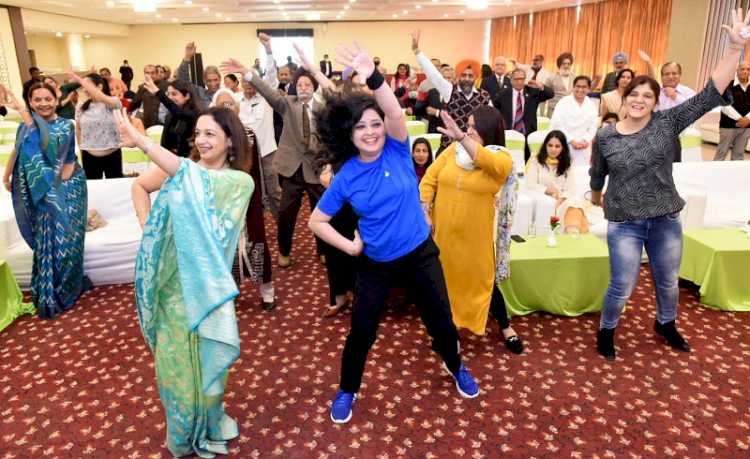 Doctors, kidney donors and recipients take part in a dance during an Ivy's event to mark World Women's Day at a hotel in Chandigarh on Sunday.
Chandigarh: Around dozen female kidney donors were felicitated during an Ivy Hospital's event to mark Women's Day at a hotel here on Sunday.
Among others, Dr. Kanwaldeep, medical director, Dr. Japnit Singh, director , Dr Raka Kaushal, director nephrology and Dr Avinash Srivastava , director urology were  presented.
Those felicitated included wives who donated kidneys to their counterparts and young daughters who donated kidneys to save the lives of their beloved parents.  
Prakarti (28) from Mohali didn't give a second thought when doctors confirmed about immediate kidney transplant for her mother, Anita Chhabra.
She came forward and offer her kidney to her beloved mother who were in deep agony due to kidney problem.  Anita underwent kidney transplant in February last year at Ivy Hospital, Mohali.
For me, my mother is everything and my whole world. I could not imagine to see her in any pain. Giving her my kidney is like repaying a small part of her affection for me since i am born, says Prakarti.
Now when I see my mother healthy and fit it gives me feelings that how important these close relations are. The family is like branches of a tree where when one branch starts dying up the structure of whole tree changed, he remarks.
Another donor, Jinny Kapoor from Mohali came forward to save the life of her husband, Sandeep Kapoor who underwent transplant 7-month back.
Gagandeep Kaur (21) from Ropar saved her ailing father that required immediate transplant.