Fashion Yatra 2019: 150 years old British Silverware Frazer Haws among 70 other exhibitors showcased their designer products
Author(s): City Air NewsFounders of Little Gestures, the wedding management company who showcase their wedding gifting ideas--Aparna, Minakshi and Farisa. Hyderabad, July 23, 2019: The latest edition of Fashion Yatra 2019 held at Hotel...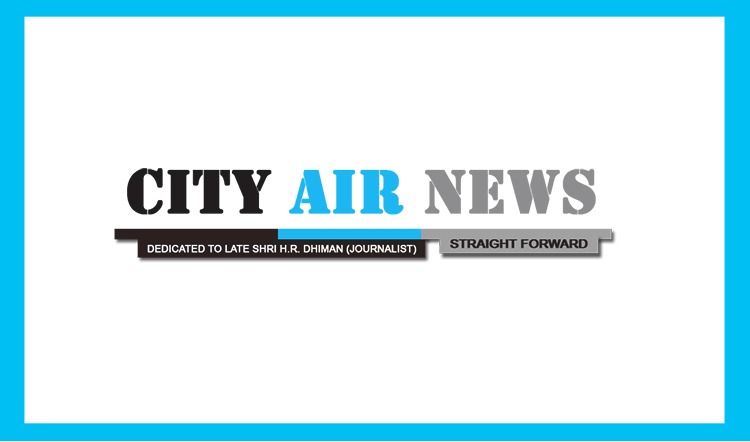 Hyderabad, July 23, 2019: The latest edition of Fashion Yatra 2019 held at Hotel Taj Krishna today.
The one day fashion and lifestyle show by Kamini Saraf was inaugurated ten kinds from Teach for Change.
It is a fashion show with philanthropy. Part of the proceeds will go to Teach for Change, NGO informed Kamini.
Speaking on the occasion, the curator of the show, Kamini Saraf said Fashion Yatra is one of the biggest of its kind, showcasing designer garments, jewellery and lifestyle products from all over the India. 70 designers from all over India participating in the exhibition and showcasing their creations, Kamini informed.
This is the 14th year of Fashion Yatra and it is organized by Akshat Events founded by Ms .Kamini Saraf, the brand creator of Fashion Yatra.
Some of the exhibitors include Frazer and Haws, a 150years old British Silverware Maker which is specialized in sterling silver, glass artifacts, crystal both for corporate and home gifting. Its products are patronized who's who of the corporate world and British Royalty.
It has showcased a Balaji idol made up of pure silver with gold plating, black marble and resin. It is one of the costliest items on display and costs 2.65 lakh. Similarly other unique pieces include: Krishna Samaria priced at Rs 2.45 lakh, Radhika Krishna Jhula prices at Rs 44,300.
Little Gestures, a wedding management company showcased their novel gifting ideas. Every time you accept a wedding invitation you're inevitably faced with the question of what to give. At the same time hosts too look for some innovative gifting ideas as return gift. That is why we are showcasing these gift ideas informed three partners of Little Gestures—Minakshi Gupta, Aparna Khemka and Farisa Khan.
City based Chandrakanta Goenka our up her stall 'Creative Corners". What to keep in that corner, how to make corners look full and look good. I have turned that passion of mine into a business. I have portfolio of 22 unique corner ideas, she shared.
White Jewels a Mumbai based Jewelry house specialized in handcrafted fusion jewelry will present their collection to the city's elite customers.
Purvi Doshi, Fashion Designer, whose label is born out of urge to give back to the earth will showcase her designer wear. With her hand woven fabric and natural colors, Purvi Doshi gives employment to 300 crafts women.
Arte Alter, a life style label from Calcutta, offers pur handmade clothing and convinces customers to shunn any kind of use of polyester and its blends at the show.
The Label 'LOKA' by Veerali Raveshia, a luxurious pret and couture clothing label will also display their products. It is the brand all about 'Fun contemporary clothing with an Indian aesthetic', i.e. fusion wear, that appeals to all women; as it's a blend of both western and traditional sensibilities. LOKA encompasses love for bright colors, threadwork and block prints. Only using pure fabric, great importance is given to cut, color and superior finish. LOKA works with local artisans and craftsmen bringing forth the authenticity inherent in their culture and traditions. The use of bold colors in their designs, radiate a feeling of warmth and confidence. Their brand aesthetic lends itself to create a garment that is classic yet versatile in form. Intricate embroideries, attention to detail, natural quality fabrics that characterize a 'handcrafted' product, strengthen 'LOKA's premise that true luxury lies in slow fashion that appreciates overtime.
Parina Jewels from Jaipur to showcase hand crafted fine jewellery and Gem stones. They offer a full range of Kundan,Meena & Fine Jewellery crafted with precious gemstones and the beautiful diamonds. Their collections reflect stories crafted with hues, beauty and heritage. Each piece has a unique enigma and character, which is perfectly balanced with natural colored, rare and precious stones, says the company
'Open Button" by Ruchika Rashi and Sunita Daga, a New Delhi based label that caters to the urban woman who is conscious about style, craftsmanship, design and quality will also be among other exhibitors showcasing their unique creations.
On Our Own (O3), an accessory Label founded by Mansi Bhageria and Rashika Todi, specializes in ethnic kholapuris, and uber cool clutch bags will be an another uniqu attraction. Their products are suppliede to Taj Exotica in Maldives, Fuel in Mumbai and Ahmedabad, Creo in Mumbai and 2Divine The Lifestyle Temple in Mumbai and many other establishments.
Limited Edition Jewellery by Trupti Mohta epitomises Uniqueness will present their best of the best products. Each woman is beautiful and rare in her own way. Similarly each piece of Ltd Edition though being made with motifs, stones, chains etc, tells you a tale and is ONLIEST in its own way.
Lachesis which designs ethnic kurtas, Indo western using a range of fabrics from silk and cotton jute to Bengal handloom and khadi, woven sarees too will exhibit their designer wear.
Aanchal Vijan, clothing brand that harmonizing timeless Indian craftsmanship into contemporary couture for the new age bride is among many other who will showcase their products to the descerning Hyderabadi customers.
Kamini Saraf in the past has also helped in showcasing and conducting trunk shows for International brands as well as the best of Indian designers. To name a few would be Louis Vuitton, Salvatore Ferragamo, Marc Jacobs, Moschino, Jean Paul Gautier, Stella McCartney, Alberta Ferreti & Lanvin in an exclusive Showcase, in the city of Hyderabad. She also helped Bollywood celebrities like Sunil Shetty & Mana Shetty to promote their brand "Araish", in Hyderabad initially.
The one day exhibition is said to set the trend for the next 364! The proceeds of the exhibition will go towards Teach for Change towards educating underprivileged children.