Fashion Designers upbeat about post-Covid market scenario
The wedding gatherings initially were small so people didn't splurge, now in the unlock period people are ready to spend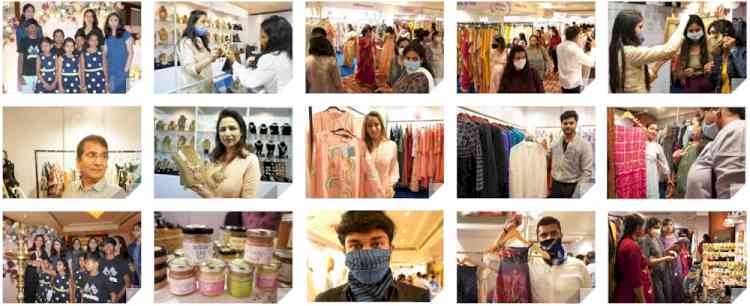 Hyderabad: Fashion designers at the Fashion Yatra held at Taj Krishna today were upbeat about the market scenario. Speaking on the side-lines of Fashion Yatra, a fashion fiesta organized by Hyderabad based Fashion Designer Kamini Saraf many designers were of the opinion that the opening up of the lockdown will open up the economy too.
 
Over 60 designers, designer labels from across India and abroad showcased their collections.  Among them were Fashion Entrepreneurs, Social Enterprises, start-ups and lifestyle brands, designer labels, etc. who showcased their products.
 
Mumbai based Fashion Designer Himani Doshi said that the wedding season in the Covid lockdown time saw that the bride and groom did not compromise but the brides maid and others did forgo things such as clothes, jewellery, etc. due to the limited people allowed. She added that nowadays people are looking for apparels that are repeatable. The things will go to normal soon, he said optimistically.
 
Shashank Chelmilla, an architect turned fashion designer said that due to Covid the gatherings at weddings / wedding ceremonies were small and people did not want to splurge. But, now in the unlock period due to the opening up people are ready to spend. But they are looking for simplified, affordable apparels with oomph factor.
 
Another young designer from Hyderabad, Varun Chakkilam opined that the fashion industry will reach pre-Covid levels soon. It will definitely pickup soon. The clientele is now giving priority to responsible buying. They are looking for products which are reusable. Sustainability is a factor that they are now looking into, he said. Designer SajedaLehry of Seams Pret & Couture, Mumbai that in the Post-Covid scenario people are more aware of choices and want to get value. Though currently the market is slow, it is going to pick up in future soon. People are looking for more classic pieces that are long lasting and that they can treasure and wear for long. More wearability and value for money are the driving forces in the current situation, she added.
 
Kolkata-based designer Alok Baid was of the opinion that genuine buyers are always looking for quality products and our clientele have been with us. Delhi-based fashion designer Priyanka Jain of AIDA felt that the customers during the lockdown period were a little more price conscious but it is not so bad now and they are buying now. The taste and preferences have not changed much and mostly are the same, she felt.
 
Speaking at the inaugural of Fashion Yatra by the students belonging to the 'Teach for Change' NGO Ms. Kamini Saraf said that she is happy that the people of Hyderabad have well received Fashion Yatra. Due to Covid, businesses had suffered, but now people are shopping.
 
There are a lot of unstitched or semi-stitched clothes so that people don't have to try clothes before buying. Many startups, young and upcoming designers from across India have put up their stalls and showcasing their products, she added. The proceeds from the show will be contributed to 'Teach for Change' – an initiative for educating the underprivileged."
 
Shashank Chelmilla with his collections inspired by the architectural elements showcased Sherwanis, Bombo Jackets, etc. blurring pret line and western wear..
 
Dr.Naznin Khan, a Doctor working at Care Hospital who comes from a family that is into clothing since four generations put up a stall showcasing works in Ajraj, Bandhej, Gaji Silk, Moga, etc. done by artisans from Kutch, Gujarat. Young Sister-duo Hetvi and Saloni of Dress Relief from Mumbai stood out with their quirky western wear for women and attracted the younger crowd.
 
GoldKarat displayed 14 & 18K gold and diamond jewellery and 18 & 22K jadau jewellery. White Jewels showcased their diamond studded jewellery along with 18K gold jewellery with precious and semi-precious stones.
 
Fashion Yatra wooed Hyderabad's fashion-conscious crowd with flair and flamboyance and provided a platform for a stellar selection of fashion designers from across India.
 
Fashion Yatra is a brainchild of Kamini Saraf. Kamini is a fashion designer, owner of Angasutra, Founder of Fashion Yatra and Pretx. She is also the director on Radha Smelters Pvt. Ltd.
 
Fashion entrepreneur, Kamini founded an exclusive Fashion Yatra in 2006. Before Fashion Yatra she used to do trunk shows that is when the thought of bringing several designers under one roof and that's how Fashion Show was born.