Farmers trained on packaging of fruits and vegetables
An autonomous body under the Ministry of Commerce, GoI, IIP provides two day training program for farmers on packaging of fruits and vegetables at Anantapur in association with Dept of Horticulture, Govt of AP and NABARD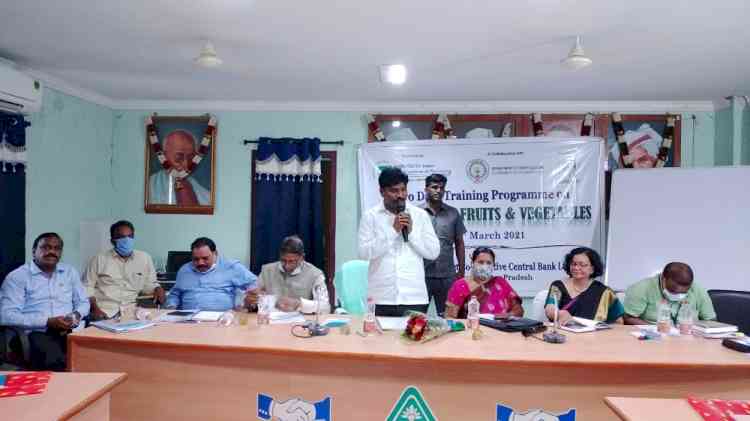 Anantapur: Indian Institute of Packaging (IIP) organized a two days training programme on Packaging of Fruits & Vegetables in collaboration with the Department of Horticulture, the Government of Andhra Pradesh and supported by the National Bank for Agriculture and Rural Development (NABARD).
 
IIP Hyderabad is an autonomous body working under the administrative control of the Ministry of Commerce, Govt of India.
 
The two programs which began yesterday concluded today and informed Dr. Gaurav Madhu, Joint Director & Regional Head of IIP Hyderabad in a press note issued in Anantapur today.
 
It was held at Anantapur District Cooperative Central Bank Ltd at Anantapur
 
The objective of the program was to help farmers familiarize themselves with the importance of packaging, their benefits, the process involved and how horticultural produce such as fruits and vegetables shelf life can be improved, how they can minimize wastage and reap maximum benefits from their produce.
 
Mr. N. Nataraj, Assistant Director, IIP Hyderabad trained approx. 70 farmers who came from different parts of Andhra Pradesh. He demonstrated packaging methods for the fruits such as Sweet Oranges, Guava, Must Melon, etc
 
 The training programme was inaugurated by Sh. Talari Rangaiah, Member of Parliament from Anantapur District.
 
The other eminent officers who organized, supported and attended the training programme are Smt. Usha Madhusudan, District Development Manager, NABARD – Anantapur; Smt. P Padmalatha, Deputy Director of Horticulture Anantapur, Govt. of Andhra Pradesh; Sri B S Subbarayudu, Project Director, Andhra Pradesh Micro Irrigation Project (APMIP) – Department of Horticulture Anantapur; Sri Sudarsan Babu, General Manager, Department of Industries, Govt. of Andhra Pradesh; Sri G. Satish, Assistant Director of Horticulture Anantapur, Govt. of Andhra Pradesh.