Farmer union leader demand closure of liquor factory in Zira 
The ongoing Farmers protest demanding closure of a liquor unit entered in the fifth day at Village Mansurwala in Zira sub-division.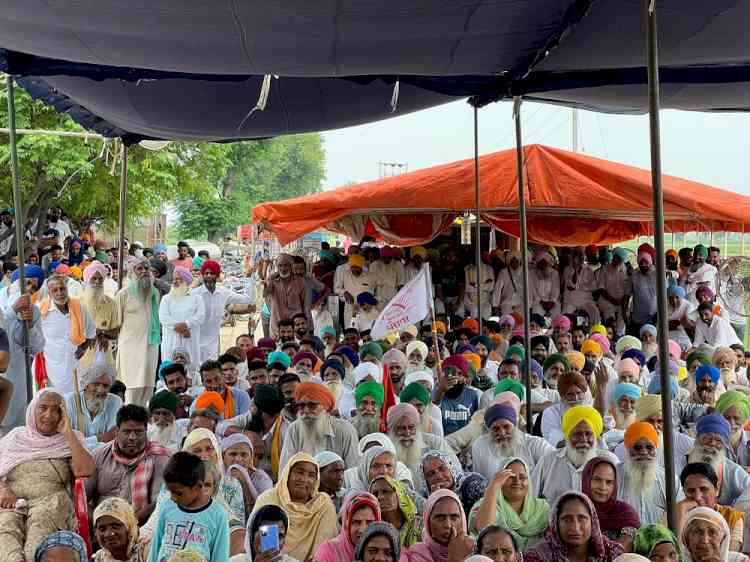 Ferozepur, July 27, 2022: The ongoing Farmers protest demanding closure of a liquor unit entered in the fifth day at Village Mansurwala in Zira sub-division. Hundreds of farmers belonging to various unions here are demanding the closure of a liquor factory. 
As per information, few villagers had complained that during the drilling of borewell at the village gurdwara, chemical started coming out from the ground instead of water as soon as the drilling level reached at six feet deep beneath the ground. The farmer union leaders including Ranbir Singh Rana, Satnam Singh, Gurjit Singh, Gurdip Singh, Sukhwinder Singh alleged that the factory workers are discharging toxic water into the ground due to which such thing happened. They demanded that the liquor factory should immediately be closed. 
The dharna entered in the fifth day today following which the district administration had to intervene. Senior officials including SDM Zira Inderpal Singh reached the dharna site and tried to pacify the protesting farmers. 
Meanwhile, a video also surfaced in which Satinder Kumar, one of the factory workers made an appeal to the protesting farmers to allow the workers to take the ration inside. As per the staff members, the farmers were not allegedly allowing the entry of food material in the factory due to which more than 130 migrant laborers, who are staying inside the factory were suffering. 
However, Ranbir Singh Rana, member of Kissan Mazdoor Sangharsh Committee and other farmer union leaders denied all the allegations and said that they have not interrupted the supply of ration. "We even said that those who have nothing to eat can take food from us. But we will not lift the dharna till the time the factory is closed. The dharna is being held in a peaceful manner", they added. 
Meanwhile, Zira SDM Inderpal Singh also reached at the dharna site. "A thorough investigation is being conducted by the administration. Apart from taking soil samples around the factory by the concerned Department, the administration has also taken water samples, and action shall be initiated after the report comes", said SDM. 
Pawan Bansal, Manager of the factory said that apart from one incident of toxic water found beneath the ground, no other such incident has been reported. "If the water is pure at other places, I don't know why such incident took place in this village. I request, that the administration should allow us to dig the ground at some other place near the factory so that the villagers could be satisfied, said Bansal.