Farmer gets new lease of life after complex heart surgery at Ivy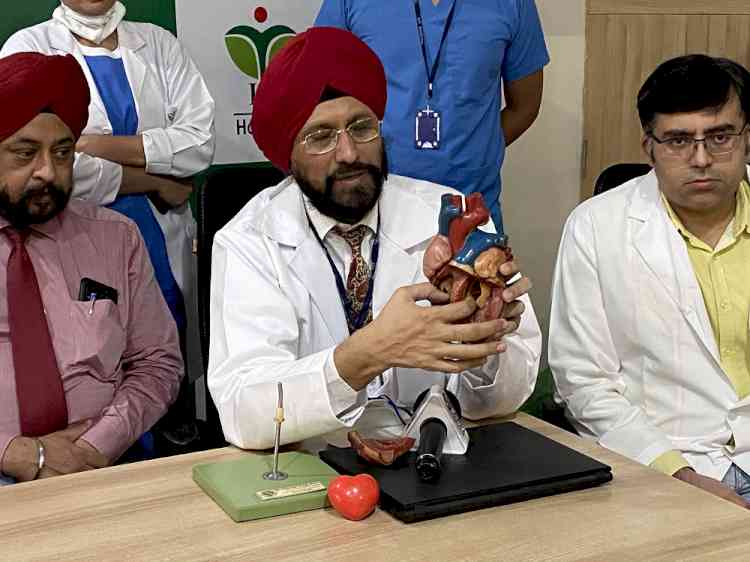 Mohali, September 28, 2021: 56 year old farmer Surjit Singh (name changed) from Fatehgarh Sahib got a new lease of life after he underwent a successful procedure for a rupture inside his heart at Ivy Hospital, Mohali recently.
Giving details during a press conference at Ivy Hospital on Tuesday, Dr Harinder Singh Bedi, Director-Cardiac Vascular Sciences who performed this complex procedure said that the patient had suffered a severe heart attack. He had gone to a local Heart Hospital where he was diagnosed for heart attack besides an additional complication of a massive hole in his heart.
Sensing the gravity of the situation, the doctors at the local hospital referred him to Dr. Bedi.
Dr Bedi who has treated such cases at the Escorts Heart Institute, Delhi and the St Vincent's Hospital earlier ,  realized that time was of very essence in this care . Thus the patient was quickly investigated and taken for emergency surgery. This is called a post heart attack rupture of the interventricular septum, informed Dr Bedi.
During surgery it was found that the heart was indeed very much damaged along with the lungs. The hole in the heart in fact allowed a huge amount of blood to enter the right side of heart and from there to the lungs thus causing breathing problem, to the patient with oxygen levels recording very low also . 
The front of the heart was ballooning out with each beat. He was immediately put on a heart lung machine and his heart stopped with a special solution. The heart was opened and the large hole was seen inside the heart. This was repaired with a special imported material. The damaged part of the heart was also repaired, said Dr Bedi.
The patient did well and was discharged on the 4th day of procedure.
The other members of the team who performed the procedure included ; Dr Jiten Singh, Dr Vikram Arora and a dedicated Ivy heart paramedical staff .
Meanwhile Ivy Hospital has one of the most experienced heart teams in the region and the faculty is all full time .