Farmer becomes chief guest at inaugural of fresh food store at Hyderabad
People not only want to buy fresh because of more health benefits, but they also want to support local farmers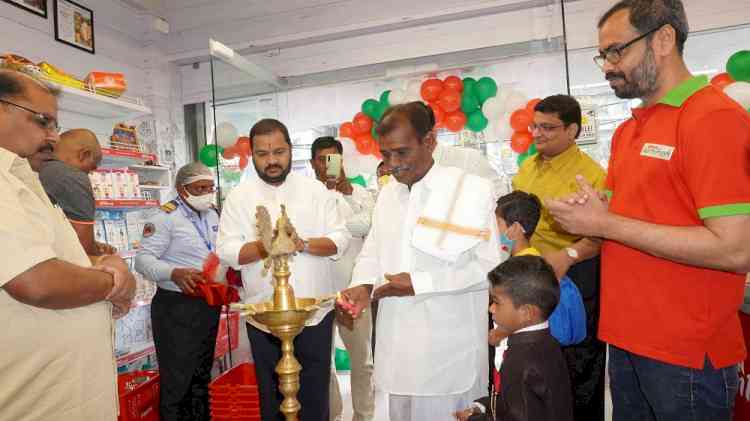 A farmer Kavali Yadaiah seen lighting the lamp and inaugurating Urban Farm Fresh store at Khajaguda, Hyderabad. Also seen is Mr. Sachin Agarwal, Director, Urban Farm Fresh (in red).
Hyderabad: Urban Farm Fresh, the chain of exclusive fresh stores opens its maiden store at Khajaguda in the Hyderabad city on Saturday. Simultaneously it also inaugurated another store at Srinagar Colony. Both these stores have come up at very prominent locations in the area of little over 1000 sft. 
 
Exclusive Fresh Stores is a new trend catching up fast in twin cities of Hyderabad and Secunderabad to cater to the rising consumer demand for fresh foods such as Fruits, Vegetables, Dairy Products, Bakery Items and Healthy Foods.  
 
Interestingly, the management invited two farmers Kavalai Yadaiah and K. Sanjeeva.  Kavali Yadaiah, a resident of Moinabad  inaugurated the Khajaguda store.  He has been growing leafy vegetables for the past 50 years. The Srinagar Colony store is inaugurated by K. Sanjeeva, a resident of Vantimamidi.  Both are progressive farmers.
 
His invitation is nothing to do with the current agitation. Since it is an Exclusive Fresh Store we found it to be right to invite a farmer. More so, he is the one who is supplying us with the vegetables along with others. Also, it allows us to thank farmers in this country for what they are and what they have been doing to the nation, said Sachin Agarwal, Director.
 
Post pandemic people have become more health-conscious and their demand for fresh food continues to be strong. They are not sure of safety at Local Vegetable Mandis or Pushcarts. The reasons for consumer demand for fresh products are Real Flavours, Fresh - means more Nutritious, Healthy, Large Selection to choose from, better customer service and above all Support to Local Farmers
 
A supermarket or a departmental store can house just about 60 to 80 SKUs (stock-keeping units), whereas the exclusive fresh stores like Urban Farm Fresh can keep 180 to 200 SKUs. We house 70+ Fruits; 65+ Vegetables; 40+ Exotics; 15+ Leaves and Herbs; 6+ Micro-greens; 50+ Packed Fruits and Vegetables and many more Healthy Products
 
The customers will get fresh food products, wide range and variety, good quality and price. Our USP is the best in quality, variety and price across the 130 to 140 fresh stores running in the city, said Sachin.  
 
We work closely with small-scale farmers to provide locally harvested, handpicked & fresh quality fruits and vegetables. We strive to challenge and influence the industry to supply better, healthier products with a focus on organics, nutrients and knowledge, he informs.  
 
We will be opening another six stores at Alkapuri Township, Gaddiannaram, Lingampally, Alind Colony, Gandhinagar and JP Nagar. We will open two stores each weekend this month, said Mr. Sachin. We will grow up to 20 to 25 stores by June. We invest Rs 30 to 35 lakhs in each store. After six months plans are on the cards to foray into Vijayawada, Visakhapatnam and Bangalore.  
 
The city already boasts of 130 to 140 such outlets. And it can be taken up 1000 to 1500 stores. Everybody is a potential customer of our business. Fresh food products are so essential, everybody needs them. Urban Farm Fresh has ambitious plans to play a vital role.