Farm Bills will push common man into hunger crisis: Amarjeet Kaur
Addressed a rally organised on the occasion of Chakka Jaam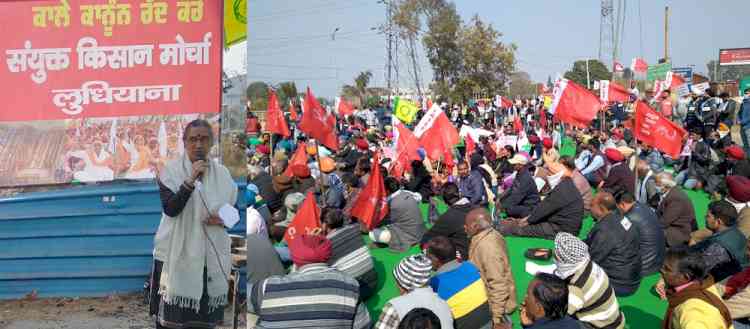 Ludhiana: Addressing a rally organized on the occasion of Chakka Jaam, opposite Verka Milk Plant Ludhiana, Com Amarjeet Kaur – National General Secretary All India Trade Union Congress (AITUC) said that the farm bills will not only lead to pauperization of the farmers but also push the common man into hunger crisis. The corporate who will not only snatch away the land of the farmers but will hoard the agriculture produce and sell it at much higher prices at a later date. This will further push the already food starved common people of the country to huger crises as they will not have the required purchasing capacity. 
The government, she said, is blatantly working for the corporate. The events on 26th January have exposed the conspiracy hatched by the government to defame the moment of the farmers. But the movement has spread all around the country. She also condemned the way barricades are being constructed at the Delhi borders and the farmers are being denied water and food supply and internet services. 
Com Mangat Ram Pasla – Leader of the CTU Punjab said that the farmers have challenged the Modi government which is shaken and is trying to intimidate the farmers by various means but to no avail. There is now much more gathering at the Delhi borders what used to be before 26th January. Prof. Jagmohan Singh – General Secretary AFDR Punjab said that no amount of barricades will deter the farmers towards victory.
Large number of students, youth, women, workers and citizens of Ludhiana participated in the Chakka Jaam. Those who addressed include D P Maur, Prof. Jaipal, Chamkaur Singh, Deepak Kumar, Pravez Singh, Gulzar Pandher, Rajinder Pal Aulukh, Simranjit Kaur, Paramjit Singh, M S Bhatia.