Fair price shops indulge into irregularities in Kangra district
Fine of Rs 61,700 imposed to 10 shopkeepers: ADC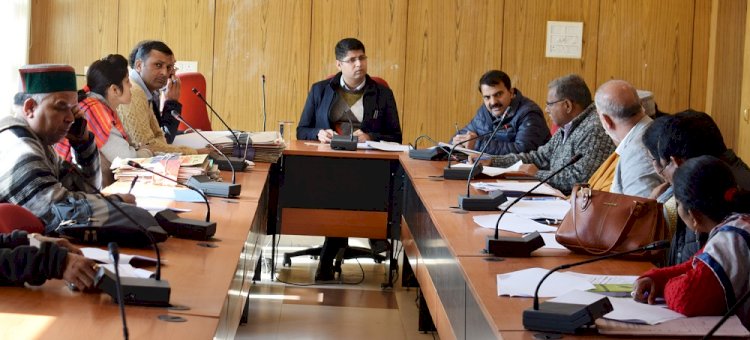 Dharamshala: Additional Deputy Commissioner Kangra Raghav Sharma said, "Every possible effort is being made to provide goods of high quality to consumers and strengthening the public distribution system in Kangra district. In the last four months, 683 surprise inspections were conducted in the district for quality monitoring, in which irregularities were found in 10 fair price shops and wholesale centres. Total of 16 cases were registered and a fine of Rs 61,700 was also collected."

He further added that during this period, 81 domestic LPG cylinders have also been seized from different restaurants and a fine of Rs 31 thousand has been collected and deposited in the Government Fund for finding banned polythene with 34 shopkeepers. The Additional Deputy Commissioner directed the concerned authorities to periodically check the quality of food items available in the market along with the public distribution system so that consumers get quality goods at reasonable prices.
Raghav Sharma said, "LPG cylinders are  being supplied to a total of 470902 registered consumers through a total of 35 gas agencies in the district. The route chart has been notified for the distribution of LPG cylinders for all the gas agencies operating in the district and all gas agencies have been instructed to distribute the LPG cylinders as per the prescribed route chart."
Additional Deputy Commissioner has emphasized on strengthening the public distribution system in Kangra district. While presiding over the review meeting held on Monday on the public distribution system, ADC asked the officials to work with full dedication to strengthen the public distribution system and fix the problems of the people connected with it immediately.
During the meeting, he informed that under the National Food Security Act, there are a total of 785399 selected beneficiaries in Kangra district, who were distributed 278301 quintal of gandam flour and 145490 quintal of rice during the last three months. He said that no complaint has been received regarding the non-availability of food grains, which is being distributed under the Rajiv Gandhi Food Scheme under the National Food Security Act or non-availability of low quality food grains. Apart from this, rationing and other schemes like mid-day meal of schools.
District Food and Supplies Controller Narendra Dhiman, Area Manager Khem Chand, District Program Officer Ranjit Kumar and other officials were present on the occasion.