Faculty of Computational Science of GNA University organized "Technophilia 2020" 
More than 100 students of enthusiastically participated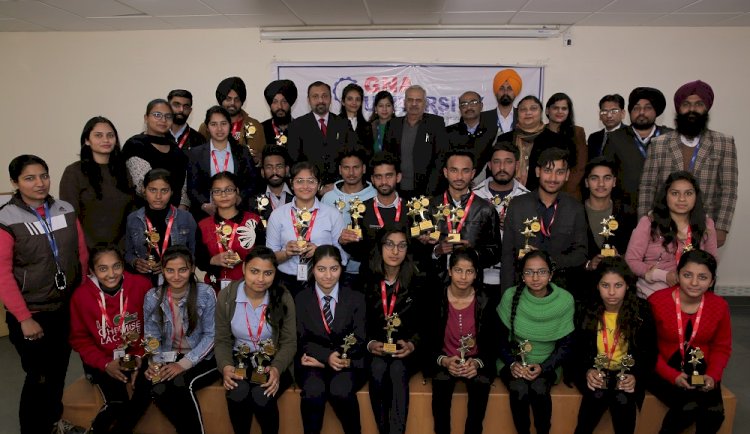 Phagwara: Faculty of Computational Science of GNA University organized "Technophilia 2020" a Technical Event with an objective to provide the students a platform to exhibit their technical skill set.  More than 100 students of enthusiastically participated in all the events to showcase their talent in the various events like Mind Fizz-Technical Quiz, Storyboarding-Video Documentary, Code Craze, SRS Documentation and Fun activities (Twin Win and Pictionary).  
In The Mind Fizz, there were three rounds in this event and the team scoring the highest score aggregating the 2nd and 3rd round was declared as the winner.
In the Storyboarding, students had shot some short duration videos and posted them on YouTube. Here the winning video was about Social Services that NSS volunteers did during their camp.
In the Code Craze, the students did coding for the given pattern and tracked found errors. Team finding maximum errors and fixing the code for the given pattern was declared the winner.
SRS Documentation comprised of the technical event based on Software Engineering. Here the client gave the students with her requirements for MS Word Application. Students were allotted maximum 2 hours duration to make SRS of an application.
Mr. Gurdeep Singh Sihra said, "I am delighted to see the enthusiasm among students in participating in various events pertaining to their field. More of such technical activities should be arranged by the Faculty to unleash their hidden talent."
Dr. V.K Rattan, Vice-Chancellor said, "Team FCS has done wonderful efforts in putting their students into various technical activities and competition." 
Dr. Monika Hanspal, Dean Academics & Systems Operations expressed, "Technophilia 2020 is wonderfully organized and I wish this event should become a yearly event among students to cherish."
Dr. Umesh Sehgal, the Head of Faculty of Computational Science said, "I congratulate all my team members and especially the students for showing great interest in the event and bagging awards."
All the first three positions in all the events were awarded with mementoes to carry back home as a token of lifelong appreciation and motivation not only for the winners but also for the other peers. /(Feb 14)