Extremely premature baby survives 13 weeks of remaining gestation in NICU
24 week infant with only 10% survival rate, discharged healthily after 86 days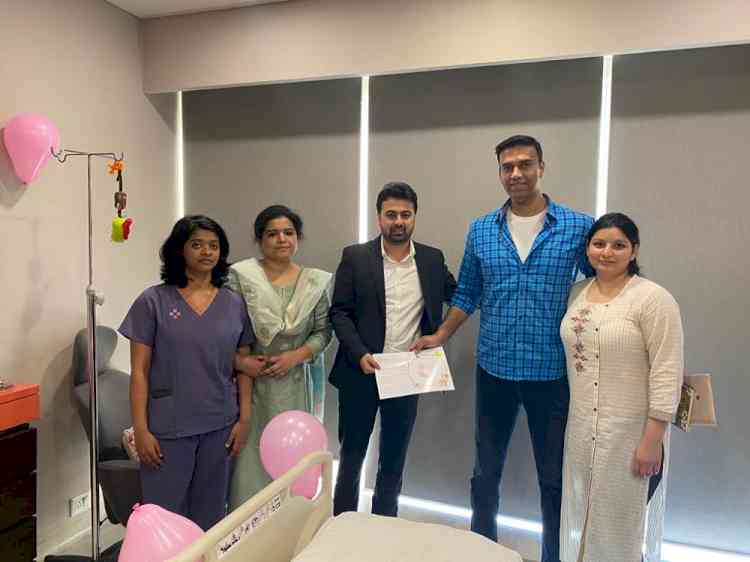 Gurugram:  Pertaining to the rarest chances of survival, an extremely premature baby with only 24 weeks of completed gestation was successfully nurtured in the NICU for a record time of 86 days at CK Birla Hospital Gurugram. Seeking the extremely low levels of amniotic fluid of the mother, the baby had to be delivered in an emergency situation which otherwise could have been fatal to both baby and mother.
 
Born with an extremely low birth weight of 690 grams, the baby had a lot of struggle in her survival. Since the underdeveloped lungs were not able to help her breathe on her own, she was monitored on ventilator support throughout to avoid a condition known as apnea of prematurity, where a person forgets to breathe.
 
The babies born before 25 weeks require the most intensive care in a well-equipped tertiary neonatal intensive care unit. The survival rate without disability for a baby born before 25 weeks in India is only 5%.
 
Babies born at 24 weeks of gestation have very less chances of survival and other major complications surrounding this baby was the need for multiple blood transfusion due to anaemia. As the intestines were also not developed, she was fed intravenously till 56 days of life when she stared tolerating oral feeds.
 
Fighting against all odds bravely, the baby survived throughout the 86 days in NICU to complete her 37 weeks to be discharged in a healthy condition with a weight of 1740 grams. This is the first of its kind successful cases in Gurugram.
 
"This case gives hope to thousands of parents with high risk pregnancy and subsequent risk of prematurity as most of the times babies born before 26 weeks are not even given a chance to fight for their survival. Delivering a baby at a tertiary care hospital with fully equipped infrastructure and antenatal preparedness increase the chances of survival manifold," said Dr Saurabh Khanna, Neonatologist, CK Birla Hospital , Gurugram.
According to WHO, India tops the list of 10 nations contributing 60 percent of the world's premature deliveries – 3.5 million babies, i.e. 24 % of the total live births are born before term gestation every year in India. While WHO defines 'preterm' any baby born before 37 weeks of completed gestation, in India, viability is defined beyond 28 weeks and the extremely premature babies (24-27 weeks) are not even counted by the statistics.
 
The baby's mother had severe oligohydramnios (very low levels of amniotic fluid) that resulted in the early delivery. She was admitted and treated conservatively for the first 3 days with round the clock maternal and fetal monitoring. Antenatal steroids as well as fetal neuro protective drugs were started as per the protocol. Antenatal counselling was done by the neonatologists to ensure the parents were prepared for the course of treatment for the premature baby and the associated risks.