Experience sharing workshop organized at Nauni
Thirty-four farmers from Rupi, Chota Kamba and Nathpa Gram Panchayats of Nichar block of district Kinnaur participated in the workshop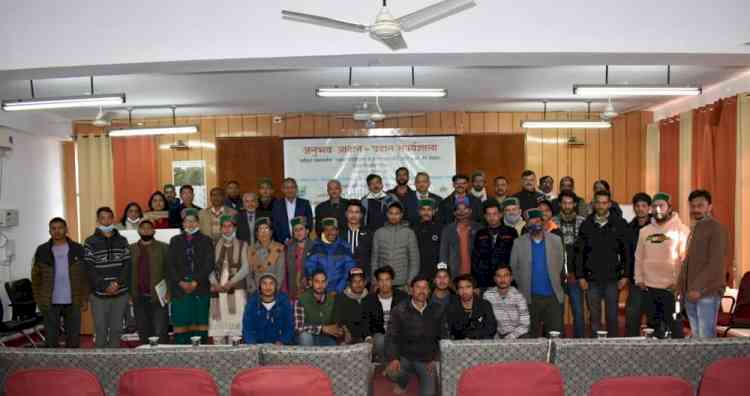 Nauni, December 27, 2021: An experience-sharing workshop was organized by the Hill Agriculture and Rural Development Agency (HARP), Shimla at the Directorate of Extension Education, Dr. YS Parmar University UHF, Nauni. Dr. Sudhanshu Mishra, GM NABARD was the Chief Guest while Dr. Ravinder Sharma, Director of Research, UHF, Nauni was the Guest of Honour. Thirty-four farmers from Rupi, Chota Kamba and Nathpa Gram Panchayats of Nichar block of district Kinnaur participated in the workshop.
Dr. RS Ratan, Chairman HARP said that this programme has been organized under the Integrated Tribal Development Project at Rupi, Chhota Kamba and Nathpa Gram panchayats since 2014. The project has been funded by NABARD and is being implemented by HARP. He further stated that this is a horticulture-based livelihood programme implemented by HARP with farmers' participation. Over 76,000 apple plants have been planted on 435 acres of land in these three-gram panchayats and 607 families have been benefited.
Speaking on the occasion, Dr. Sudhanshu Mishra said that NABARD has always been at the forefront of conducting programmes for socio-economic upliftment. He urged the farmers participating in this workshop to make the various programmes successful through their support. Dr. Ravinder Sharma and Dr. Divender Gupta, Director of Extension Education appreciated the efforts of NABARD and HARP and assured the farmers that the university is always ready to support the farmers technically. Dr. Narinder Kumar Thakur said that HARP's team has worked under arduous conditions in these inaccessible areas with the coordination of farming communities. Farmers–scientists' interaction was held on the occasion in which the technical queries of participating farmers were addressed.