Excise Department destroys 60,000 liters of lahan, 600 bottles illicit liquor in crackdown against illicit liquor cartel
Zero tolerance policy against illicit liquor trade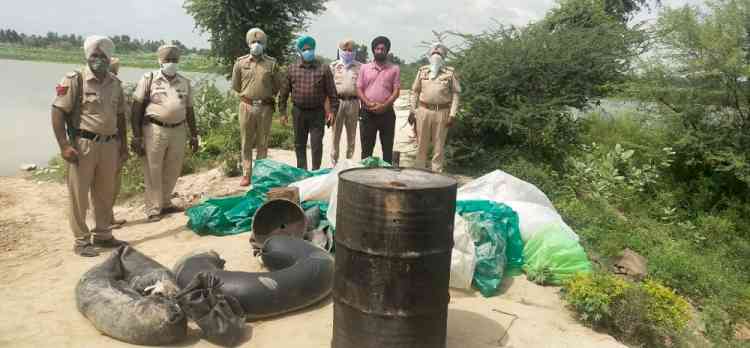 Ferozepur: Tightening the noose against illicit liquor cartel, the special teams of excise department today raided various hideouts alongside River Sutlej during which they seized 60,000  litres of lahan, 600 bottles of illicit liquor which was later destroyed. The special team also recovered 25 plastic tarpaulins and utensils which were used for making lahan

Giving more details DETC J.S. Brar said that under zero tolerance policy against the illicit liquor trade, teams of excise department conducted raids in the enclaves of River Sutlej, and subsequently seized and destroyed massive amount of lahan and illicit liquor.  

Notably on August 21, also the special team of Excise department had recovered 48,000 liters of Lahan and recovered 425 bottles of illicit liquor besides 30 plastic tarpaulins and other utensils. Later, the lahan and illicit liquor bottles were destroyed.
He said that the department was on its mission against the smuggling, bootlegging and manufacturing of illegal liquor as a large number of raids have been conducted recently with massive recovery of illicit liquor, lahan besides destroying live manufacturing units. Brar said that more than 350 FIRs have been registered this year and more than 450 persons have been arrested besides more than 11,00000 litre of lahan has been destroyed.