Ex-ITBP veterans' association donates Rs 1 lakh to fight Covid-19
The voluntary services are also being carried out for providing of food to needy people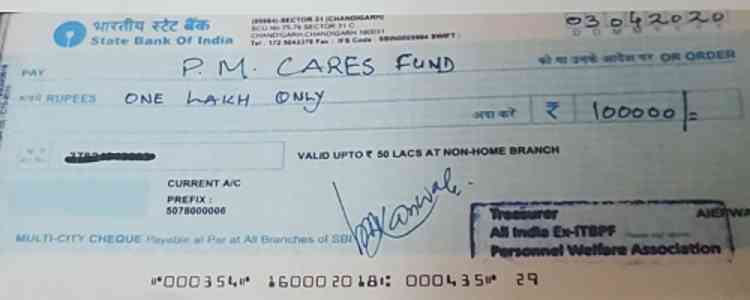 Chandigarh: Ex-ITBP veterans' All India ex-ITBPF Personnel Welfare Association (AIEPWA) has contributed Rs. 1-lakh towards PM Care Fund in fight against Covid-19.
AIEPWA president  and an ITBP Inspector General (retd.) M S Bhurji said that being a mountain police force, we had experienced high degree of medicare risk with little difference between life and death and acceptance of sacrifice. And now to fight this deadly coronavirus, ITBP veterans have stood-up to contribute to PM Care Fund.
The voluntary services are also being carried out for providing of food to needy people, said Mohinder Singh, ITBP Commandant (retd.) and general secretary of AIEPWA , Punjab.
Registered in April, 2018, AIEPWA is a maiden initiative of a few retired ITBP personnel and aims to unite the ex-ITBP Himveers to work constructively in the welfare of their brethren, and their widows and dependents to ameliorate their well-being and status. It's an only national-level organization of ITBP ex-servicemen, which includes members of all ranks from all over India.