"Evolving role of the police during covid-19" by Centre for Police Administration, PU
Dr.Kuldeep Singh, Chairperson introduced both the Theme and speaker of the webinar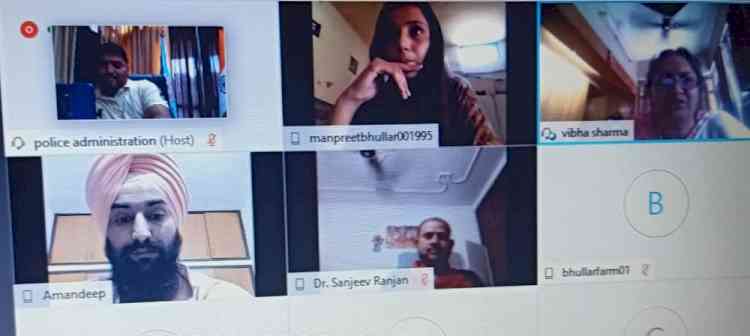 Chandigarh: The Centre for Police Administration ,Panjab University organized a Webinar titled "Evolving Role of the Police during COVID-19" today.
Dr.Kuldeep Singh, Chairperson introduced both the Theme and speaker of the webinar. In his introductory address he started with the role of Police in today's Scenario.  The resource person, Dr. Vibha Sharma, Head of Department of Public/Police Administration talked about the transformations witnessed in the role of police during the ongoing pandemic crisis of COVID-19. She stated that, in recent times, police has become more community and social oriented. It has assumed an array of new roles ranging from regulatory role to humanitarian role. This, consequently, has built a real time positive image of police among citizens during this crisis. She highlighted that several new challenges shall be faced by police in this "New Normal" situation moving from lockdown to unlock phase during COVID-19 and in its aftermath. There shall be need to revamp the police organization and policing techniques and methods to tackle the new challenges arising out this pandemic.
However, she pointed that for sustenance of such role transformation, the government should provide adequate resources (both physical as well as financial) to police organizations. In addition, community cooperation and community participation has been imperative to reinforce this evolving role of police. The citizens, local government and voluntary organizations should bring about both change in their attitude and perception towards police. They should inculcate a sense of affiliation and humanity towards the police personnel and their functions. She, therefore, concluded that this 'Evolution' in the role of police needs to be taken up in the 'Revolution' mode for long lasting impact.
 Dr. Kuldeep Singh, Chairperson, also stated that there is need of advanced training of medical and technological aspects for police to tackle with these kind of situation in future. The session was followed by an active interaction between the resource person and the participants. A large number of participants such as Mr. Hemant Kumar (DIG) BSF, Mr. Pawan Basatia (DCP), Delhi Police, Dr. Rajesh Chander, Dr. Namita Gupta, Dr. Sanjeev Ranjan, other Faculty members, research scholars and students  from various institutions attended the Webinar.