Eventful Day 1 at TiECON Chandigarh 2021
The wait got finally over as TieCON 2021 a three-day Entrepreneurial congregation was rolled out today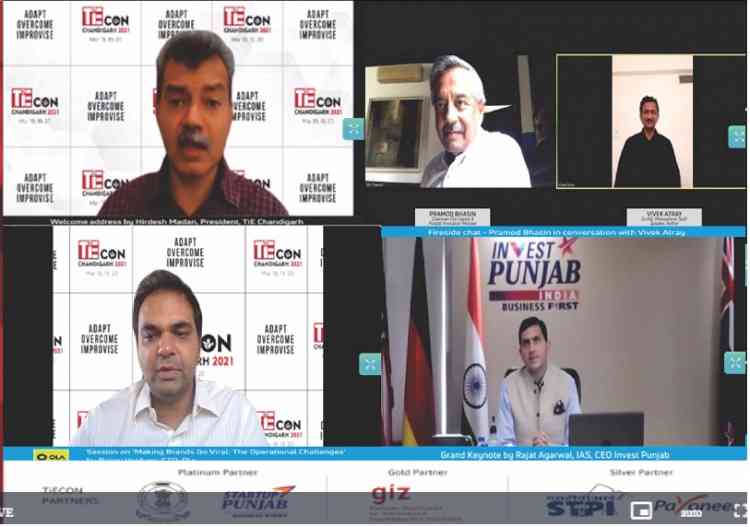 Chandigarh: The day began with a welcome note by TiE president, Mr. Hirdesh Madan highlighting the agenda and deliverables of TIECON 2021 along with a word  of thanks for various sponsors who are making this event possible specially the Government of Punjab.
This was immediately. followed by  Pramod Bhasin - Chairman, Clix Capital and Punjab innovation mission  in talk with Mr. Vivek Atray - Ex- IAS, motivational speaker, author, mentor, Pramod Bhasin spoke about his  pan India mission and further shared in detail  the 'Punjab Innovation Mission' on how Punjab intends to develop a vibrant and innovative ecosystem for entrepreneurship in the state. and the importance of following  successful experiences of  various countries engaged in startup missions. In his message to the young business professionals he said one should  not be afraid of being involved in the launch of startups ,with startup stigma fast wearing off and ease of capital availability it's time to stay there and take it to a successful and logical conclusion.
Mr. Rajat Agarwal IAS, CEO- Invest Punjab, delivered a grand keynote address at the beginning of the largest entrepreneurial event of the region with the focus on making a difference in the lives of thousands of business tycoons, young entrepreneurs and students. He listed out various measures being taken by the government of punjab  to make startups the integral part of the ecosystem of the business environment  of Punjab in the  form of financial and logistical support.
Keynote  speakers in the next hour were  TiE past president   Partap K Aggarwal, founder and CEO, IDS Infotech Ltd , Brijraj Vaghani, CTO, Ola who spoke about the Operational Challenges involved in Making Brands Go Viral:.and Dr Omkar Rai, Director General, STPI also shared his views.
Simultaneously, there was a session on ' Edtech - "The Future of Learning, Today" which had three speakers on the panel.namely Mr. Kamal Wadhera, Founder & CEO, TCY Learning Solutions (P) Ltd. Ms. Vidhu Goyal, Founder & CEO Wonk & Mr. Deepanshu Goyal, Co-Founder & CEO Prepladder and moderated by Mr. DNV Kumara Guru, director, external relations, ISB.
The day followed with  informative sessions by Prof. Raghuram Bommaraju, Assistant Professor, Marketing, India School of Business (ISB)Mr. Sarbvir Singh, CEO Policybazar.com, Gurmeet Singh Chawla, Director Master Trust Group, Archana Vohra, Director, Small and Medium Business, Facebook India &. Mohit Chauhan, playback singer.
Objectives of TiECON 2021 is to continue its relentless effort of inspiring entrepreneurs and significantly impacting the entrepreneurial environment. To present Chandigarh region  as an attractive and  robust destination for business and showcasing it as a land of  entrepreneurial opportunities on the regional ,national and global level.