ESIC's special services fortnight culminates 
Health checkup of 4863 insured persons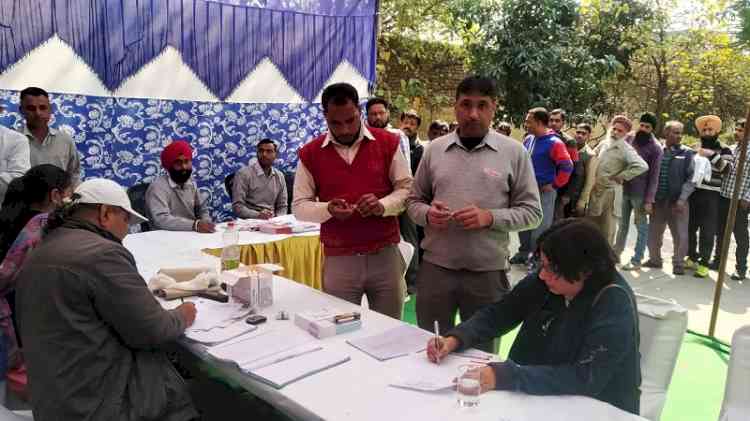 Ludhiana: Employees' State Insurance Corporation culminated its Special Services Fortnight today with the health checkup of 4863 Insured Persons in 39 camps held in various major Industrial Units of Ludhiana City. The fortnight started on 24/02/2020 to mark the 68th Anniversary of ESI Scheme.
Sh. Sunil Kumar Yadav, Deputy Director I/c, SRO Ludhiana thanked all Employers who came forward for holding these camps in their premises. He said that in almost all camps the attendance was above 100 and some of the IPs who have been diagnosed with Diabetes and Hypertension was ignorant about their disease. They have been advised to visit their Dispensary for further consultation. The other activities undertaken during the fortnight was the clearance of pending cash benefits in case of Death/Disability and other benefits cases of Insured Persons. To clear the pendency, Branch Offices of ESIC were opened on Saturdays and Sundays during the fortnight.
Employees' State Insurance Corporation is one of the world's largest multidimensional social security scheme under Ministry of Labour and Employment, Govt. of India, which provides social protection to The workforce of the country against the impact of incidence of sickness, maternity, disablement or death due to employment injury and to provide medical care to insured persons and their families. This Scheme is implemented through the Employees' State Insurance Corporation. In Ludhiana, ESIC is providing its services approx. 4 Lakh Employees and their families working in approx. 16000 factories/establishments through one Sub Regional Office, 05 Branch Offices, one Model Hospital and 13 ESI dispensaries spread across the city.