Entrepreneurship Development Cell UIET PU organized webinar
The topic of webinar was 'National Education Policy 2020- Impetus to Entrepreneurial Revolution'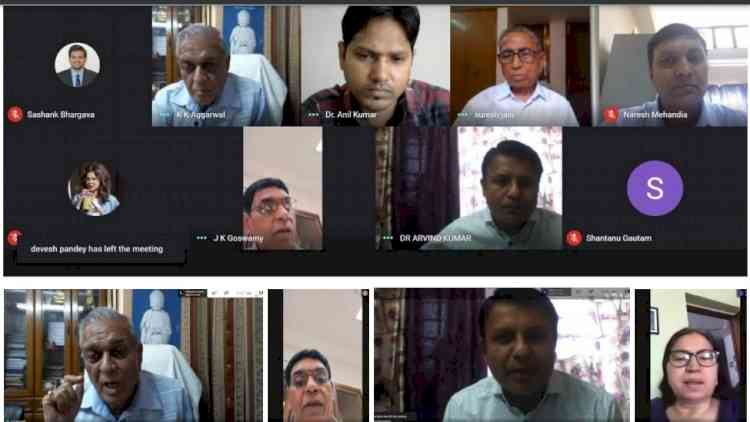 Chandigarh: Entrepreneurship Development Cell (EDC) UIET, Panjab University, organized a webinar on 19th March 2021, under the guidance of Dr. Arvind Kumar, EDC Faculty Incharge and Dr. Naresh Kumar, ECE Coordinator, UIET, wherein eminent dignitaries like Prof. KK Aggarwal and Dr. SC Jain expressed their views on the topic 'National Education Policy 2020- Impetus to Entrepreneurial Revolution'. 
The event commenced with Prof. JK Goswamy, Director UIET, PU expressing his concern on how the Education Policy of India has not been changed since the 'Kothari Commission'. Moreover, he said that with the exponentially developing world that we live in today, NEP 2020 was much needed. Prof. Renu Vig, former Director, UIET, then introduced our esteemed speaker Prof KK Aggarwal to the audience with her kind words. 
First speaker, Prof KK Aggarwal, Chairman NBA, led us a way through what NEP is, and what outcomes it can lead to in the near future. In his viewpoint, the only way to have a holistic education system is to have it guided by the students themselves, which is what NEP 2020 does. The new policy gives students enough freedom to choose what and what not to study. Dr. Aggarwal believes that in the coming decade we shall see no science or commerce students but only senior secondary students. NEP 2020, by providing multidisciplinary self selected courses will enable a child to become a good manager, problem analyst, supervisor, problem solver and hence will make students more worthy of employment. He further emphasised on the importance of relentless striving, exploring undiscovered domains and conquering the fear of failure, if one wants to become a successful entrepreneur and make the most out of the New Education Policy of India.
Second speaker, Dr. Suresh Chand Jain, Former Dean and Chairman of Department of Chemical Engineering, Panjab University, started off his talk by giving us an insight into the initial days of his own life. He began addressing the significance of good education by quoting Swami Vivekanand: 
"A nation is advanced in proportion to education and intelligence spread among the masses." 
Education if given the right direction can bring revolutionary changes in the course of history. He further went on to discuss the different postulates of NEP 2020 and enunciated his opinions about the same. The root of the new policy lies in redefining school education, by integrating a wide range of artistic and practical activities in the present curriculum for a child's holistic development. The next major change is that the Higher Education institutions will become multidisciplinary, allowing multiple entry and exit systems, with more focus on creative thinking and skill development. Incubation centres and Technological Research centres will also be introduced to facilitate startups. According to him, the current curriculum cannot be completely eradicated, but even if 20- 30% of the new norms are amalgamated with the present ones, a significant improvement can be observed in the employability of the country's youth and can also prove extremely beneficial for the budding entrepreneurs. 
The session concluded with Dr. Mary Chatterjee extending her vote of thanks to our honorable speakers for enlightening us with their views on the New Education Policy and its effect on employment and entrepreneurship. Arnav Trikha, Student Convenor, EDC acknowledged the presence of other dignitaries, Prof. JK Goswamy, Prof. Savita Gupta, Prof. Renu Vig. He also expressed his gratitude towards Dr. Bhawna Sharma, Chairperson Startup Cell, GCET Jammu and Er. Sheetal Gandotra for collaborating with EDC and assisting us to turn this event into a success. He went on to congratulate Dr. Arvind Kumar, faculty Incharge, EDC and Dr. Naresh Kumar, ECE Coordinator, UIET for their tireless support in coordinating this event and our EDC members, Tanya Aggarwal, Manav Madhu, Ishpreet Saluja, Gurmehak Chopra, Atul Thakur, Aastha Sharma, Mihir Choudhry, Hitesh Chawla, Shantanu Gautam and Prachi Gaur, who contributed significantly to this event in their own respective ways.