Ensure 200 vaccination camps from April 1: DC orders health department 
Need to make covid immunization program a public movement for breaking transmission chain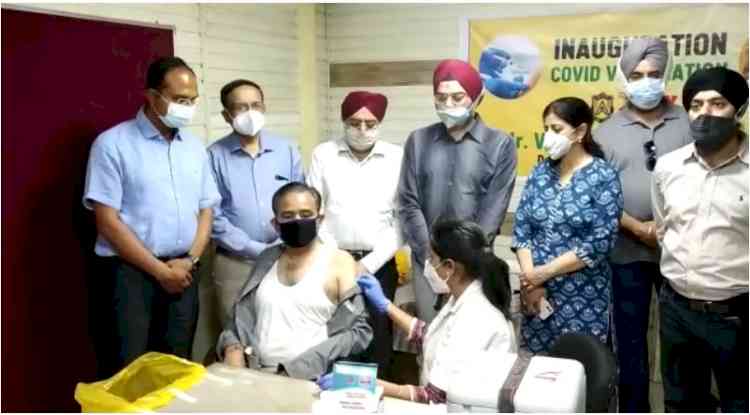 Ludhiana: In a move to further augment its efforts to rein in the contagion by inoculating a larger section of the population under the 'Vaccination at Doorsteps' drive, Deputy Commissioner Varinder Kumar Sharma on Tuesday directed the health department to organize 200 immunization camps from April 1.
After inaugurating a vaccination camp organised at Avon Cycles by Onkar Singh Pahwa today, Deputy Commissioner said that from April 1, all the citizens above the age of 45, irrespective of co-morbidities, would be eligible for COVID-19 vaccination and at present, only citizens above 60 and those over 45 with co-morbidities are allowed to get the vaccination besides health and frontline workers. 
He asked Civil Surgeon Dr Sukhjeevan Kakkar and District Immunization Officer Dr Kiran Gill to convene meetings with the private hospitals, IMA and other health officers in industrial houses and train them for the inoculation and other formalities required for the Covid camp.
He asked them to send him a complete schedule of 200 camps through elaborated planning with all stakeholders, targeting as many eligibles as we can vaccinate quickly through camps.
Sharma said as the 'Vaccination at Doorsteps' drive has received thumbs up from the residents, it would be accelerated to cover the maximum entitled by organizing 200 camps from April 1.
He asserted that we need to make this drive a public movement against the Covid pandemic by ensuring aggressive participation of the eligible in the camps to get the shot. 
Deputy Commissioner emphasized that those entitled must accept and come forward to receive the vaccine, presuming its duty towards the country and should not believe in rumours.
He further said that vaccination is being carried out in government health facilities on all 7 days of the week and it is completely free of cost at these institutions. For private hospitals government has fixed a maximum fee of Rs.250 for each dose of vaccine.
During the camp at Avon Cycles, he took a pledge from vaccinated workers that they would disseminate the information among their families and societies about the importance of the vaccine which is very much safe and effective in reducing infections.