Enactus team of Panjab University celebrated Independence Day eve 
Distributes reusable face masks, face shields and ration kits to underprivileged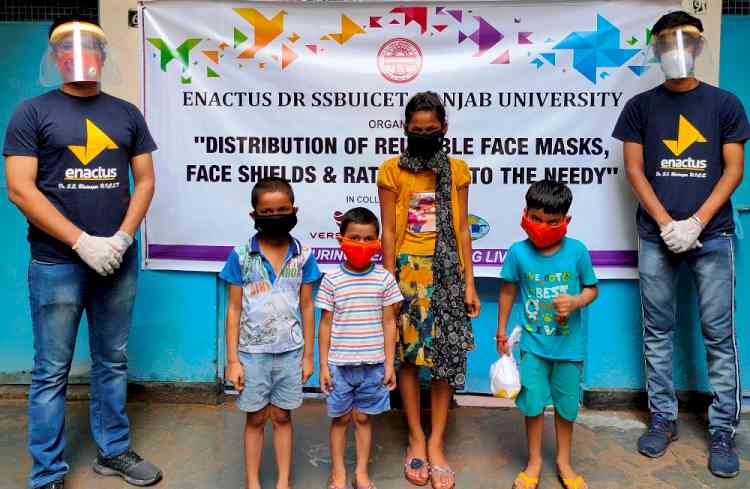 Chandigarh: The Enactus team of Panjab University in collaboration with Developing Indigenous Resources-India (DIR), a local NGO, celebrated the eve of Independence Day by distributing 150 reusable face masks, 100 ration kits containing the essential grocery items to last for 1 month for 1 family, among impoverished families with malnourished children, pregnant and lactating women of Janta Colony, slum region of Nayagaon, conveyed Mr. Harleen Singh, former President of Enactus team.
The event was held keeping in mind COVID-19 Management Guidelines issued by Government of India Ministry of Health & Family Welfare, averred Dr. Seema Kapoor, Faculty Advisor, Enactus team.   100 No. Face Shields were distributed to healthcare workers of DIR-India by the Enactus team. Dr. Asha Katoch, CEO, DIR stated that their field workers and senior staff are working every day against the risk of their own life against Covid-19 in the slum of Janta Colony helping the needy with groceries and medical health.

Prof. Kapoor also informed that the funds were raised through crowdfunding platforms and Social Media, mainly whatsapp groups.  Many people came forward to support the cause. Mr. Vipan Seth, a 1977 batch alumnus of Dr.SSB University of Chemical Engg. & Technology and Director of Versatile Enterprises Pvt. Limited, Group of Companies, who are leading Manufacturers of Technical & Innovative fabrics came forward for sponsoring Reusable Face Masks under its CSR Project Amodini to mitigate morbidity and provide protection to the vulnerable communities. These washable face masks are made from highly breathable fabric with Meltblown (SSMMS) Filter inside to stop the bacterial activity.

Mr. Vipan Seth conveyed that "A Mask is simply not a face cover but a valuable civic essential with the potential to save lives". Mr. Seth was happy to see the young members of Enactus team of Dr. SSBUICET serving the underprivileged communities and making a meaningful difference in their communities, while gaining the experience, skills and contacts necessary to build a successful career. He said that the Enactus students will definitely become value driven leaders.

With numerous collection & distribution drives done from time to time, the Enactus team has left no stone unturned to make lives better for those in need even during this tough time of COVID-2019 pandemic, conveyed Mr. Shubham Jindal, current President of Enactus Team. Mr. Akshat Kaushik, Vice President of the team conveyed that more such events will be held in near future.