ECTOPIA-2020 begins with colourful performances
It proved colourful event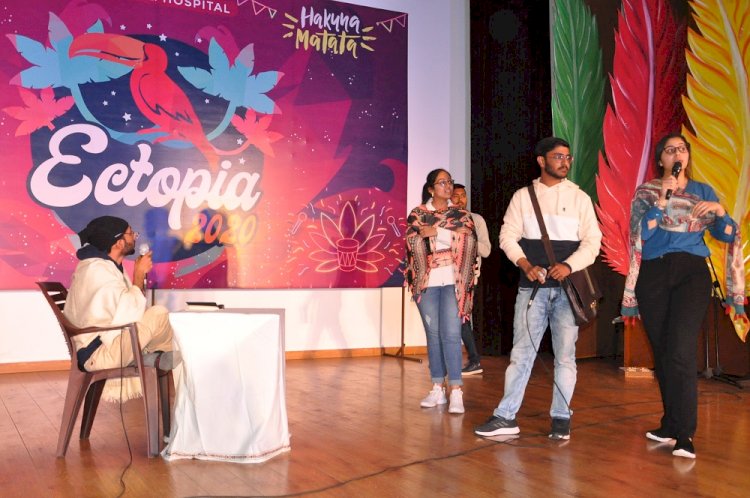 Ludhiana: Three-day cultural festival 'ECTOPIA 2020' began today with an impressive inaugural ceremony by Secretary of DMCH Managing Society-Prem Kumar Gupta. Also present on the occasion were Principal Dr Sandeep Puri, Dean Academics Dr Rajoo Singh Chhina, Medical Superintendent Dr Ashwani Chaudhary and other faculty members
Secretary Prem Kumar Gupta, in his message, said that Managing Society of DMCH has always been supportive in organizing such types of cultural events and extracurricular activities for the overall development of medical students studying in DMCH.
Principal Dr Sandeep Puri (who is also Chairperson of DMCH Cultural Committee) said that 'ECTOPIA' festival is personally very close to his heart and with every passing year, it is presented in a new form and on different theme, with more exciting and thrilling performances.   
Dr Dinesh Jain (Secretary, DMCH Cultural Committee) and Dr Navjot Bajwa (Convener of DMCH Cultural Committee) extended warm congratulations to all the participants and audience to enjoy this three-day grand  festival with full enthusiasm and excitement. Five different MBBS Batches from year 2015 to2019 will be participating in the event. The theme of 'ECTOPIA 2020' this year is 'Hakuua Matata' which means "No worries" or "No Problem" and mascot of the three festival 'Timon & Pumbaa' was also released.    
The events held in the morning on the first day of ECTOPIA include:
Turn Coat Extempore-which includes a style of debating in which an individual is given a certain amount of time to speak in favour or against a particular topic.
Dance Off- in which students perform thrilling dance performances on hit bollywood and Punjabi song numbers.  
Ad Fads/Stand Up Comedy- In this segment, participants of a particular MBBS batch are given a fixed time to conceptualize an advertisement on any product and present it to the audience in a hilarious manner.
    
Treasure Hunt- a game in which the players are given a series of clues to direct them to win a hidden prize.
 
Results of following competitions:
Turncoat extempore- 1st Sonam (Batch 2016), 2nd Soumya (Batch 2018) and 3rd Alamnoor (Batch 2018)
Ad Fads- 1st MBBS Batch 2018, 2nd MBBS Batch 2016 and 3rd  MBBS Batch 2016
Dance Off- 1st Himanshi (Batch 2018), 2nd Tanisha (Batch 2018) and 3rd Nuhaar (Batch 2015) & Manppreet (Batch 2017)/February 20, 2020