ECHS Conclave under aegis of Vajra Corps organised in Jalandhar Cantt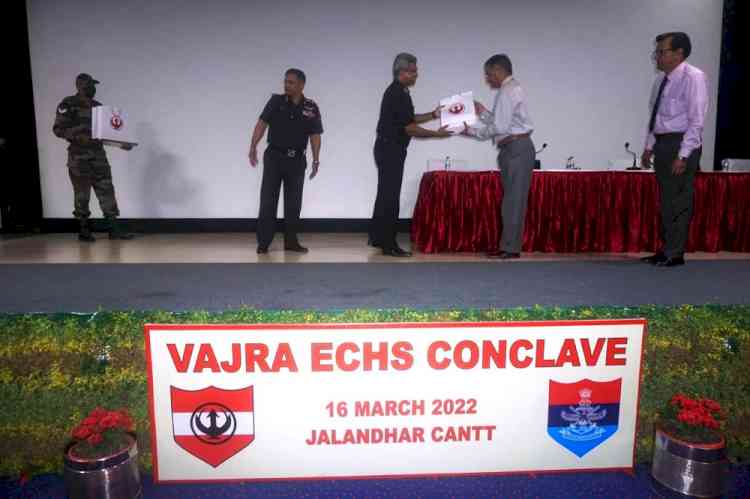 Jalandhar, March 17, 2022: ECHS Conclave under the aegis of Vajra Corps has been organised in Jalandhar Cantt with the aim of bringing together all the stakeholders as a step towards provision of better and synergised ECHS services to the ex-servicemen of Punjab and HP. The event was attended by Maj Gen NR Indurkar, MD ECHS, Maj Gen Manoj Kumar, GOC 91 Sub Area, senior Army officers, MDs of empanelled Hospitals and large number of Veterans and their dependents.
Deliberations during the conclave covered aspects of new policies being implemented by ECHS, concerns of the Veterans and best practices being adopted by the ECHS Polyclinic and empanelled hospitals. Grievances of Veterans were well-addressed and all aspects of the ECHS ecosystem has been deliberated with all concerned stake holders. The ECHS Conclave has contributed immensely to synergise the services and address the concerns and grievances of the veterans.
Government of India and the Indian Army always remains committed towards wellbeing of the Veterans. Retired Armed Forces personnel till 2002 could avail medical facilities only for specific high cost surgery/ treatment for a limited number of diseases covered under the Army Group Insurance (AGI) and Armed Forces Group Insurance Scheme (AFGIS) schemes.  These Medicare schemes could provide some relief to the Ex-servicemen (ESM), but it was not a comprehensive scheme as compared to and available for other Central Government Employees. Therefore, the requirement was felt of establishing a Medicare system which could provide quality Medicare to the retirees of the Armed Forces. Based on this noble aim, Ex-servicemen Contributory Health Scheme (ECHS) was launched with effect from 01 Apr 2003. With advent of this scheme; Ex-servicemen pensioners and their dependents that were only entitled for treatment in service hospital are now authorised treatment, not only in service hospitals, but also in those civil and private hospitals which are specifically empanelled with the ECHS.  ECHS services being 'Cap less and Cashless' act as a cornerstone in the healthcare of Armed Forces Veterans and their dependents.