`Drama Queen' - a solo act play to be staged on Feb 7 
The act will come alive at Tagore Theatre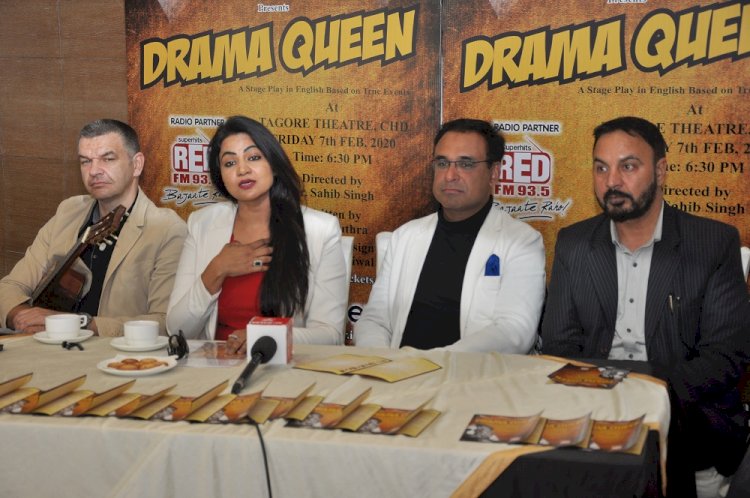 Theatre actress Nisha Luthra who is also playwright of solo act 'Drama Queen' sharing details about the production in a press meet. She is accompanied by her production team & the director Dr Sahib Singh.


Chandigarh: Chandigarh based theatre professional Nisha Luthra who is also Co-Founder  of 'The Narrators' , a young theatre organisation with a vision of staging par excellence 'English Theatre and Drama' in the region, will be staging a unique solo act  - 'Drama Queen', with a very pertinent underlying message. The act will come alive at Tagore Theatre on Feb 7(Friday) at 6:30 pm. Details of the upcoming play were shared with media at a press conference in which the solo act's playwright & protagonist Nisha Luthra, the play's director Dr Sahib Singh, Deepak Luthra, Co - Founder of The Narrators  and production head, Dzenan Smailagic an Irish national who is also a renowned musician and members of crew participated. The act is being staged under the aegis of The Narrators in association with Haryana Tourism.
Nisha explained that the act 'Drama Queen' is neither based on any gender nor a person , rather it is a meek voice of  shown by any Individual whether  man or a woman and even sometimes seen in abstract at different stages  of life.
Nisha Luthra said, " We are all gifted with innate courage, love , compassion and power of submission which we show at different phases of life. But ,we sacrifice our own passion and aspirations of what we wanted to achieve or what we wanted to be in life,  without  showing any concerns or complains. These aspects have been shown in 'Drama Queen' through my life's story."
Added Nisha," I am a lawyer by profession but theatre has always been my passion. Theatre has been a catharsis for me as it gave me the power to remain happy, despite overpowering circumstances which were only leading me to just balancing  out life's imbalances. In theatre I am living my passion for acting. The reason for the enactment is to give a message to all people who have dreams and are passionate about certain things, to follow their passion, despite challenges and life's entrapment."
Deepak Luthra, Co - Founder of The Narrators  and production head shared with media that 'Drama Queen' is a solo act English play based on the true events in the life of the playwright Nisha Luthra. Deepak said, "The playwright's inspiration to write and tell this story came from the extracts of her own life. In our lives many of us go through various ordeals  which are not always about the highs of life but sometimes brutal yet true lows of life. However, we see some people with great tenacity who do not give up and how destiny plays an uncanny role to bring out that undying passion through a remarkable odyssey of life. Similar has been the life of the playwright who has been through that ordeal and had the courage to write about it and most importantly act it out herself."
The act will touch upon the important issue of 'mental health' which needs to be always positive whatever be the circumstances.
 
Dr Sahib Singh said, "Nisha has played out  SIX Characters which are a part of her life journey. She will be showcasing various emotions through a fusion of music, dance and drama in an ensemble choreographed and conceptualised by Nisha herself. The play will intrigue with a well-balanced level of love, humour , compassion , sacrifice , tragedies and emotions."
Dzenan Smailagic an Irish musician is flying especially from Ireland to give the play a  touch of his brilliant voice and music in a live song during the act.
The Embassy of Ireland is keenly involved with the play. Ms. Emer Davis, Head of Immigration &Visa Section along with other guests from the Embassy of Ireland, Chanakyapuri New Delhi will be the guests' of honour. What's more, Lord Daljit Singh Rana, Baron of Malone in the British House of Lords too will be present as a guest of honour.
The play is of 1 hour 15 minutes duration and is mostly in English. The set & light design is by Kewal Dhaliwal, Rajan Arora is the assistant director & the back stage team includes  Lakhwinder Singh & Nikasha and the  promotions and logistics are being handled by Manika and Rajinder Singh.