Dr Satish Thaman concerned about fate and plight of senior citizens homes and elderly senior citizens
Writes to Punjab CM Capt Amarinder Singh and Local Bodies, Punjab Brahm Mohindra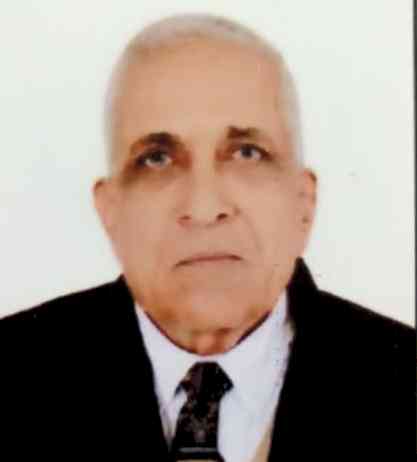 Dr Satish Thaman, Member, Sub Division Grievances Redressal Committee, Ludhiana West.
Ludhiana: Dr Satish Thaman, Member, Sub Division Grievances Redressal Committee, Ludhiana West has written to Punjab Chief Minister Capt Amarinder Singh and Local Bodies, Punjab Brahm Mohindra regarding fate and plight of senior citizens homes and elderly senior citizens.
He has stated that a majority of senior citizens, live and die, unsung, uncared, unheard, unlistened, and unremembered and leaving this universe at a time decided by the Almighty God. Most of the Senior Citizen Homes, do not open from 6 am to 8pm and remained closed and locked and isolated, as senior citizens, remained indoors due to COVID-19, since the start of this year 2019-2020 and not much care is done towards cleanliness, sanitation and cutting of grass and trimming of trees / plants etc. 
He further pointed out that the senior citizen homes, are very having much less facilities, as compared to other countries. He revealed that members of senior citizen homes are mostly retirees from private institutions, shops, business establishments and many senior citizens are out of work, without any sources of income and 10 to 15% retiree pensioners of the state and central government.
He suggested that the services of the elderly senior citizens by way of members of senior citizen homes may be utilized, online or through video conferencing by the involvement of district administration to guide elderly senior citizens to donate their parts of body to be used by the chronic patients, blind, deaf and dumb i.e. eyes, kidney and lever after their departure from this universe. 
He said senior citizens may come forward to help deaf and dumb, handicapped children, who are unable to hear, listen or speak and help them to settle themselves after 18 years. Further, he said the services of the senior citizens may be utilized to get settled divorce young ladies and they should be mobilized to help deaf and dumb children to enter main stream of life. 
Dr Thaman said due to covid-19, no financial support in the hands of elderly senior citizens and it is advisable to implement some guidelines in the service of mankind and safeguard of the humanity to develop elderly senior citizen homes and serve the masses in most refined manner. 
He said the administration may issue directions to give free electricity to all senior citizen homes, without any electric bills in 95 wards of the Municipal Corporation Ludhiana. He further suggested to declare all senior citizen homes be made as free of charges of water and sewerage charges.  Mayor, Municipal Corporation, Ludhiana may supervise maintenance of every senior citizen homes to have a good look to the senior citizen homes, as majority of the elderly senior citizen remained at home and are in isolation due to fear covid-19. 
He stated that suggestions given by him may be thoroughly studied and can be implemented on top priority basis and it is advisable that members of senior citizen homes being elderly senior citizens, be given life-long medical cards, by the reputed hospitals by charging of Rs. 50/- like many of countries. 
He said active and experienced elderly senior citizens, must be involved on and on video conferencing to collect their view points on the issues and wider publicity be made through press, media, print media, YouTube and twitter.
He said Deputy Commissioner, Ludhiana must call online conclaves through video conferencing, with the attention that this step-in respect of senior citizen homes and senior citizens will prove a blessing in disguise from the state of Punjab.