Dr Sanjeev Uppal given warm farewell on his superannuation
He has been responsible in forming DMCH Youth Club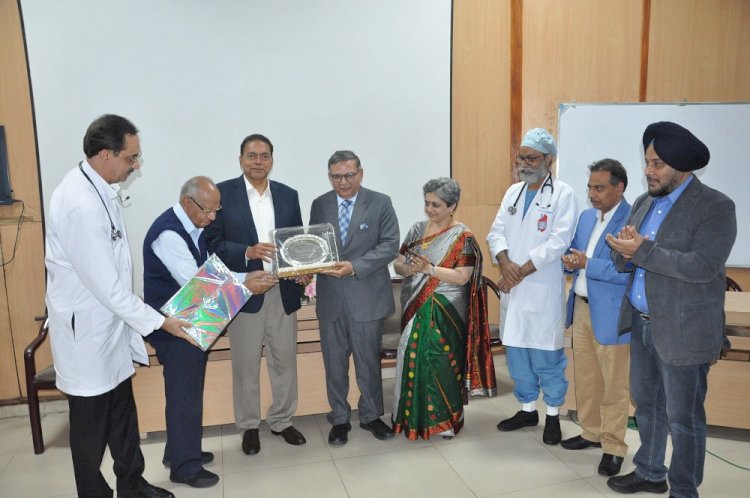 Ludhiana: Dr Sanjeev Uppal (Professor & Head of Plastic Surgery) was given a warm farewell today after 26 years of distinguished services in DMCH.
Principal Dr Sandeep Puri, in is message, highlighted various qualities and attributes of Dr Sanjeev Uppal. Besides a being an efficient and highly-skilled plastic surgeon, Dr Uppal has many achievements to his credit, said Dr Puri. Through his period of stay in DMCH, Dr Uppal had been active member of various committees of the college and always held his work and responsibilities very close to his heart.
Born in the year 1960 to parents Dr P Uppal and Late Smt Raksha Devi, Dr Uppal did his schooling from Patiala. Afterwards, he did his MBBS, MS and MCh in Plastic Surgery from Government Medical College, Patiala. In the year 1994, Dr Uppal joined DMCH as an Assistant Professor in Department of Plastic Surgery and rose to the designation of Professor & Head of Plastic Surgery Department in the year 2010 and organized and conducted many academic and social activities during the tenure.
Dr Uppal has been responsible in forming DMCH Youth Club to carry out lot of social welfare activities for the society.
Secretary of DMCH Managing Society-Sh Prem Kumar along with Vice-President Sh Amrit Nagpal and medical administrators of DMCH & HDHI were present on the occasion and felicitated Dr Sanjeev Uppal with the shawl and a gracious memento.
Dr Sanjeev Uppal, in his farewell speech, said that DMCH as an institution had done a lot to shape up his career and he will always remain indebted to his seniors, colleagues and members of DMCH Managing Society for recognizing his professional and academic work.