Dr. Ali Abbas addressed Denmark "Global Bildung Festival 2021"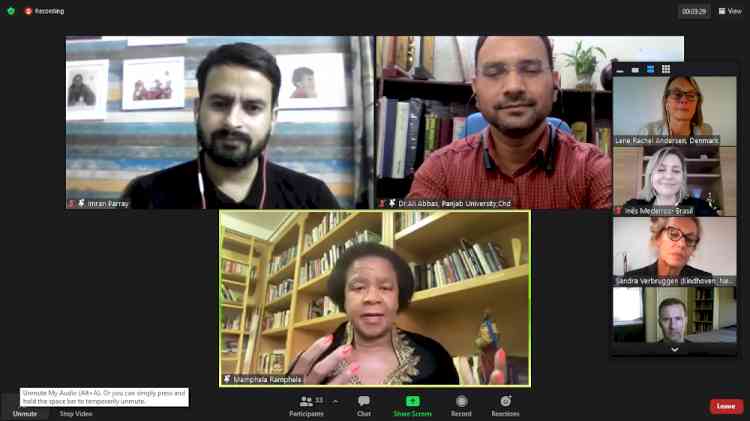 Chandigarh, September 22, 2021: Dr. Ali Abbas, Coordinator, Department of Urdu, Panjab University, addressed  the Denmark "Global Bildung Festival- 2021" concept of "Khudi", Dr. Mohammad Iqbal, renowned poet of the East. 
Dr. Ali Abbas, explained at length the relationship between Allah and Man's soul [ROOH]. According to Dr. Ali Abbas, the concept of "Khudi" as propogated by Dr. Iqbal invited a strong criticism from fanatic Muslims but Iqbal never compromised with the courage of conviction. He intended to emancipate mankind from all sorts of exploitation.
He said that Iqbal was equally impressed and influenced by the doctrine of "freedom" as conceived by French and other European Philosophers for the upliftment of mankind all over the world. "I have seen human beings shedding tears while appreciating Iqbal's'Asrar-e- Khudi', thus he stood for the well-being of all living beings and not only for human beings" Dr. Ali Abbas added.
Other International Scholars participating in the Festival included Dr. Noema Williams (New Zealand), Dr. Yi Heng Cheng (China), Dr. Mamphela Ramphele (South Africa), Alka Kumar (India & Canada), Andrey Vargas (Costa Rica), Carlos Nunes, PsyD. (Brazil& United States),ChristineRavn Lund (Denmark), Elena Tochilina (Ukraine),Viviana Canessa Derout (Chile), Irena Pranskeviciute (Lithuania), Jim Bowen (Unites States), Kim Hjerrild( Denmark) and Dr. Zachary Stein ( United States).