Dr Ajay Sharma's novel titled "Kamra No.909" released in Doaba College
Principal Dr Pardeep Bhandari said that Dr Ajay Sharma is an ace writer of country in Hindi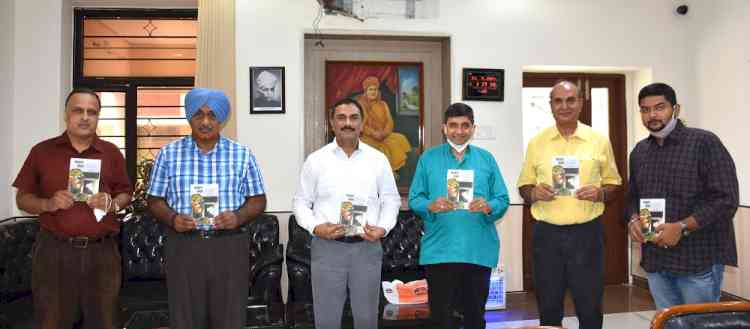 Principal Dr Pardeep Bhandari and staff releasing Dr Ajay Sharma 's Novel.
Jalandhar: Department of Hindi and  Hindi Sahitya Sabha of Doaba College Jalandhar organized release ceremony of Dr Ajay Sharma –   (Shiromani Sahitkaar Awardee and UP Sahitya Samnaan Awardee) 14th Hindi Novel " Kamra No.909". Dr Ajay Sharma and Parul Sharma-English Novelist graced the occasion, they were accorded a hearty welcome by Principal Dr Pardeep Bhandari, Prof Somnath Sharma –Head Dept of Hindi, Dr Ominder Johal –Head , Dept of Punjabi and Prof Sandeep Chahal-Staff Secretary .
Principal Dr Pardeep Bhandari said that Dr Ajay Sharma is an ace writer of country in Hindi who has carved a niche in genres of Novel, Drama and Short Stories by employing psycho-analysis technique in his writings which  vivdly exhibits the inner working of mind through his beautifully created characters. His Novel " Kamra No.909" effectively portrays the crisis of turbulent times, mental turmoil, indifferent attitude  of private hospitals and sad state of the health sector  in covid pandemic situation across the country .
Prof Somnath Sharma said that it is probably the first novel written on this pandemic situation and it beautifully depicts the physical and psychological changes happening with humanity. It is written in first person, the narrator himself is a doctor and he feels life and death at every moment in hospital. 
Dr Ajay Sharma said that  the protagonist not only talks of sufferings at local level but also links it to global level. One of the incidents from the novel goes like this. ' The whole world criticised Donald Trump that he didn't wear mask as he wanted to show to the world, especially to China  that he is supreme and head of the most powerful country USA  on earth. 
Dr Ominder Johal said that the writer has also  raised fingers on UNO and many more such incidents make this novel unique and interesting. The writer also feels cheated by the working of insurance companies, hospitals and relationships.
Prof Sandeep Chahal said that this novel exposes the truth of  so called spiritual gurus and effectively focuses on the transformation of social distancing into emotional distancing. Parul Sharma said that the novel has created a microcosm out of a macrocosm.