Doctor's day: Doctors felicitated for selfless service against covid-19
The event was organized by JJ Nikkamal Jewellers to express gratitude of society to doctors'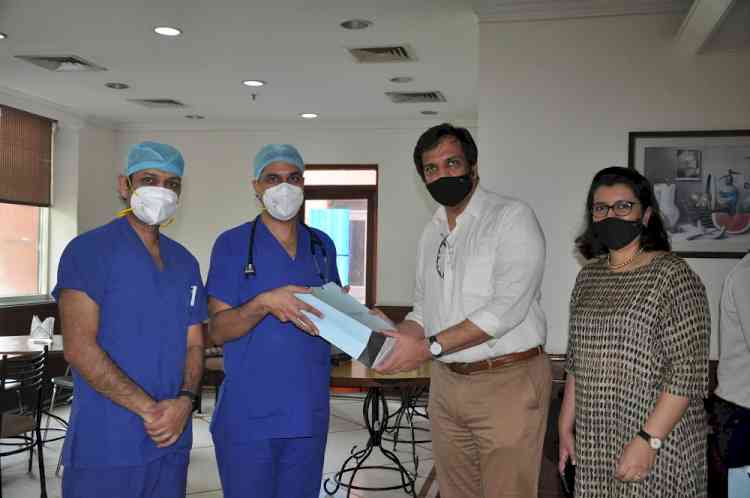 Doctors were felicitated in Mohali on the occasion of National Doctor's Day.
Mohali: A felicitation ceremony was organized to honour doctors, who have been waging a selfless war against the COVID-19 pandemic by J J Nikkamal Jewellers under its Corporate Social Responsibility (CSR).
To coincide with National Doctor's Day as many as 30 doctors were felicitated at Fortis Hospital, Mohali and about 13 at Touch Clinic, also in Mohali. Neeraj Jain, Director JJ Nikkamal Jewellers presented certificates of appreciation to the frontline COVID warriors, who without thinking about their safety have been putting in great efforts to test and treat patients infected by COVID 19. The ceremonies were held under strict social distancing and safety protocols as per standard operating procedures in this regard.
The event was organized by JJ Nikkamal Jewellers to express gratitude of society to doctors' for their selfless contribution in the fight against the pandemic. Speaking on the occasion, Neeraj Jain says, "My motivation to honour doctors' for their role in the COVID era became stronger also due to an incident which took place in our family. My sister who works in Las Vegas, USA as a doctor got infected with the n Corona virus while treating patients in the US hospital where she works. Subsequently she recovered but our family had to face difficult times."
Jain adds, "After this incident, I realized that doctors were putting their lives on the line and taking up a major risk while taking care of COVID patients round the clock. And for this contribution, society should honour these frontline warriors. So we curated the felicitation of doctors."
It is noteworthy that Jain had earlier on his own and by motivating other like minded, also provided financial assistance and high-quality PPE kits for the doctors and healthcare staff of Landour Community Hospital, (LCH), Mussoorie, which caters to the entire hill station and surrounding area within 80km.
Jain further adds, "As part of our CSR we also want to use this occasion to announce our commitment towards helping the poorest of the poor who have unfortunately got infected by the Corona Virus and need immediate medical attention." He ensured that the organization will help such genuine people in getting the best treatment and said.
While Dr. Ravul Jindal was the key doctor who helped JJ Nikkamal in conducting the activity at Fortis Hospital, Dr. Preeti Jindal, Founding Partner of Touch Clinic ensured smooth conduct of the same at Touch Hospital.