Doaba College organizes workshop on Yoga and Meditation
Principal Dr. Pardeep Bhandari explained the importance of International Yoga Day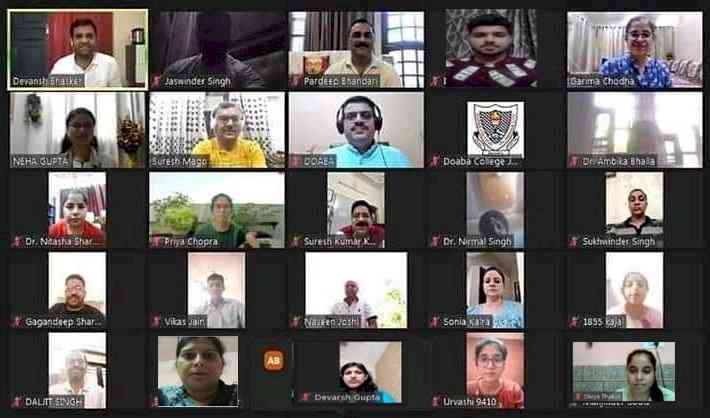 Jalandhar: The Health and Well-Being Committee of Doaba College Jalandhar virtually organized and celebrated the International Yoga Day with the theme entitled "Yoga and Meditation: Adding Life to Life".  Devansh Bhaskar- Art of Living Teacher and alumnus graced the occasion as a resource person. 
Principal Dr. Pardeep Bhandari while according a hearty welcome to the resource person, explained the importance of International Yoga Day and motivated the students to study different concepts of Yoga viz Yam, Pranayam, Niyam etc. for their holistic growth. He said that the purpose of organizing the event was to highlight the significant role of Yoga in life which has become a ray of hope amid Covid-19 as it paves the way towards Strength and Creativity. 
Devansh Bhaskar began the practical session with different breathing exercises to 130 participants  such as Kalpalbhati, Agni Sara, Pranayama etc. He taught Shishu Aasan, Vajrasana, and Bhastrika Pranayama. He inspired everyone to be thankful to God, Natural elements like the Sun, the Earth, friends and even enemies. Prof Garima Chodha extended the vote of thanks .Prof. Neha Gupta , the moderator, thanked the resource person and invited queries from the participants. The event was attended by Prof. Jaswinder Singh, Dr.Nirmal Singh, Dr.Ambika Bhalla, Prof. Vikas Jain, and Dr.Mandeep Singh.