DMCH Rural Outreach Program (DROP) starts at Pohir
A Unique initiative by DMCH to serve the rural community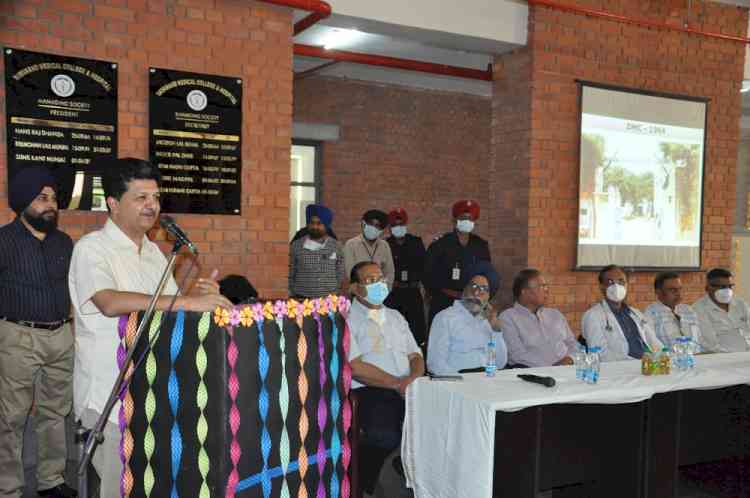 Ludhiana, May 14, 2022: Dayanand Medical College & Hospital has come up with a unique initiative to start DMCH Rural Outreach Program at its Rural Centre (DROP) Pohir. This is first of its kind program which has been initiated by DMCH to serve the rural and semi urban community.
The Program was inaugurated today by Prem Kumar Gupta, Secretary DMC Managing Society. Principal Dr Sandeep Puri, Vice Principal Dr G S Wander, Dean Academics Dr Sandeep Kaushal, Medical Supdts. Dr Ashwani K Chaudahry Dr Bishav Mohan and Dr Sandeep Sharma, Dr R K Mittal Professor & Head Department of Plastic Surgery, Professor & Head Department of Community Medicine Dr Anurag Chaudhary and other team members of this outreach program were present on the occasion.
With this outreach program, DMCH will offer multispecialty medical services to the rural area and semi urban area. OPD will cater the medical need of rural and semi urban 5 lakh population people of surrounding area.
In his message, Prem Kumar Gupta, Secretary DMCH Managing Society said that, DMCH is always committed to provide the best medical care facilities at the affordable cost to the general public and this outreach program is a part of DMCH's commitment.
Further, Gupta said that, this program is also a self-commitment of each faculty member in which they are devoting their time during busy schedule to serve the rural community and providing their exemplary services at rural area.
Giving information about this outreach program Dr Bishav Mohan, Professor Department of Cardiology and Medical Sudt. who coordinated the program said that our motive is  to reaching out to rural community and to deliver high quality, preventive, promotive and curative best health care facilities by expert medical team and to improve the health status of inaccessible rural areas as this location is very near to their places of residence. It is very struggle full for the rural communities to get best medical care facilities, to accommodate it this program will act as a bridge and will help to remove these barriers said Dr  Bishav Mohan.
Further Dr Bishav Mohan said that under this programme our expert team of 30 specialist and super specialist doctors will deliver their services at Pohir and these specialities and super specialities are Cardiology, Obst. & Gynaecology, Orthopaedics,  Eye, ENT, Surgery, Gastroenterology, Neurology, Skin, Plastic Surgery, Paediatrics, Endocrinology, Psychiatry, Nephrology and Medicine. Physiotherapy and dietary services will also provide during this program on daily basis. All investigation and medicine will be provided at subsidized rate.
Speaking on the occasion Dr R K Mittal, Professor & Head Department of Plastic Surgery who coordinated with local NGOs said that, regular health awareness and counselling sessions will also be conducted during this program to educate the rural community for their better health.
In her message, Dr Anurag Chaudhray Professor & Head Department of Community Medicine & Associate Professor Dr Surinder Pal Singh said that, this outreach program will strengthen the health care access for rural communities. This program will focused on all aspect of good health and the well being of rural community said Dr Chaudhary and Dr Singh.