DMCH Cancer Care Centre in collaboration with AOI Ludhiana facilitated their Cancer survivors on National Cancer survivors' Month
125 Cancer Survivors attended the event.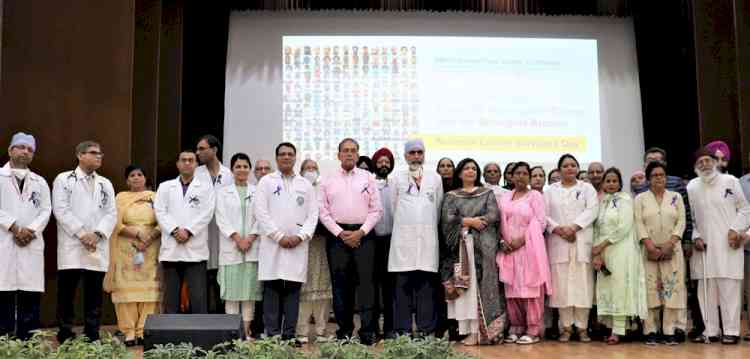 Secretary Managing Society DMCH announced a flat 25% discount on PET CT & Radiotherapy for next 3 months. 
Ludhiana, June 4, 2022: In order to felicitate and motivate the cancer survivors of DMCH Cancer Care Centre in collaboration with American Oncology Institute (AOI) an event was conducted in the DMCH campus, Dumra auditorium, where more than 125 cancer survivors attended the event. 
Starting with the lamp light ceremony by DMCH managing society secretary Prem Kumar Gupta along with Dr. Sandeep Puri (Principal DMCH), Dr. G S Wander (Vice Principal & Chief Cardiologist), Dr.Neeraj Bishnoi (RCOO- North for AOI) and the survivors the event was followed by cultural dance giddha and bhangra. 
During the event the patients shared their experience of battling and winning the fight against cancer at DMCH Cancer Care Centre.
While addressing the cancer survivors Prem Kumar Gupta shared his views and commitment to help the society to fight against this dreadful disease. He shared, how this institution has come-up as boon to the society by setting up a comprehensive cancer care unit in collaboration with American Oncology Institute that has brought up world's best in class equipment to the institution. Further, to helps more patients to battle this disease he announced a 25% flat discount on PET CT and Radiation therapy for upcoming 3 months.
The team of doctors of oncology department were also present during the event. Speaking to the audience Dr.Davinder Paul, Associate Professor & Head Medical Oncology said that the key to surviving cancer is early diagnosis and prevention. He added that they are committed in offering best-in-class clinical expertise, technological superiority, and service excellence for patients in the northern region.
Dr. G S Brar (Professor & Head Surgical Oncology), Dr. Sandhya Sood (Radiation Oncologist) and Sanjeev Kumar Mishra (Zonal Director AOI) were among those present on the occasion. The team from DMCH Cancer Care Centre & American Oncology Institute Ludhiana said that in its continued efforts to bring in the most advanced technology in Cancer Care to the region, AOI Ludhiana has recently brought up with one of the most advanced Radiotherapy Machine, HALCYON E in the Centre at Ludhiana and it is the first ever such machine installed in the whole north region including Punjab, Jammu, Kashmir, Himachal Pradesh & Haryana.