Districts were never created on communal basis: Kalia
Says but it is clearly evident that the Malerkotla has been carved out on communal basis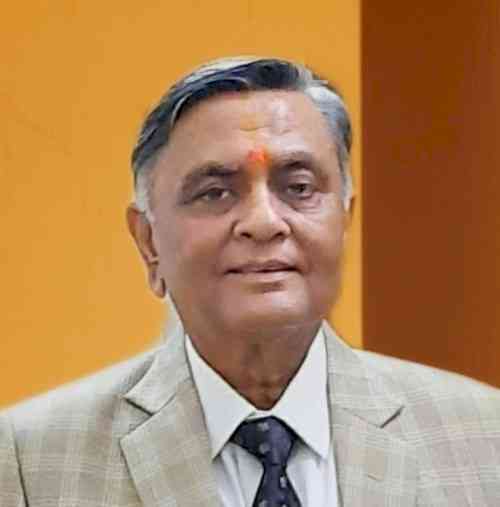 BJP leader Manoranjan Kalia.
Jalandhar: Replying to the Chief Minister Captain Amarinder Singh's  scathing attack on BJP State & Central level  leaders for objecting to  carving out  Malerkotla as a district, former BJP Punjab State President and former Minister Punjab Shri Manoranjan Kalia said in a press release that  after independence, India adapted as it is the local administrative units,  which are called districts inherited from British Raj. Many new districts were created to streamline the administration in independent India. The districts were never created on the communal  basis. But it is clearly evident that the Malerkotla has been carved out on communal basis. Because of this reason, the Chief Minister of Uttar Pradesh, Sh.  Adityanath Yogi has objected to the creation of Malerkotla district. As far as the History of secularism and communal  harmony of Malerkotla  is concerned, everybody agree to it. The Chief Minister Captain Amarinder Singh has referred to the vociferous opposition by  Sher Mohammad Khan, the Nawab of Malerkotla, to the then Governor of Sirhind's  the act of execution by burying Sri Guru Gobind Singh's two sons Zorawer Singh and Fateh Singh alive into the wall.  For that, the head  not only of  the every Punjabi but of every Indian bows down  with reverence before the Nawab of Malerkotla, Sher Mohamd Khan. But why did Captain Amarinder Singh not mention the name  Todar Mal who  bought the four yards of  land from the Governor of Sirhind Wazir Khan by paying 78000 gold bars (Ashrafis) for the funeral of Mata Gujri, Sahibzada Zorawar Singh and Baba Fateh Singh?  
Shri Kalia further said that world recognizes  the role of BJP in the 84 riots to save the Sikh brotherhood and not other way round. It is worth mentioning that Former Prime Minister Late Shri Atal Bihari Vajpayee  himself went on road in front of his house to  save the lives of Sikh brothers and thereafter chided on  phone the   former  President of India, Late Dr. Giani Zail Singh for ongoing riots. Is it not true Captain Amarinder Singh at that time  was in the Congress and resigned from Congress in protest, keeping in view the role of Congress? Later on, Captain Amarinder Singh  rejoined that very Congress whose  hands were soaked in  the blood of 84 riots.  Why did  Captain Amarinder Singh rejoined the Congress, will he reply? 
Maharaja Ranjit Singh belongs to all Punjabis and lives in the heart of every Punjabi. Captain Amarinder Singh needs not to advocate for it. So, for as the case of sacrilege is concerned, Captain Amarinder Singh cannot emancipate himself for his failure to catch the culprits during 4-1/2 years of his rule.
Mr. Kalia further said that Chief Minister Captain Amarinder Singh should concentrate all his time in fighting the Corona epidemic instead of playing  politics.