District level function on 10th national voters' day at Dharamshala
DC says, it's duty of every Indian to maintain dignity of free, fair and peaceful election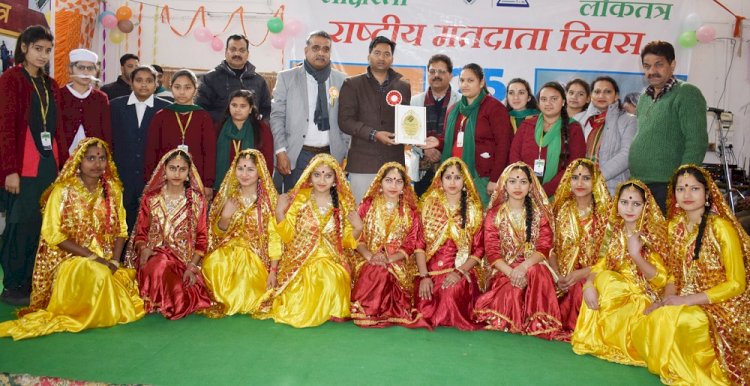 Dharamshala: Speaking on the at the district level function organised on the occasion of 10th National Voters' Day, at Zila Parishad Hall, in Dharamshala on Saturday, the Deputy Commissioner Rakesh Kumar Prajapati said that the dignity of democratic traditions of the country and upholding the dignity of free, fair and peaceful elections for every Indian Is the duty of every citizen.

He said, "We should boldly exercise our franchise in all elections without being influenced by any kind of religion, class, caste, community, language or any other kind so that a clean democratic tradition is maintained in the country."
The Deputy Commissioner said that this year the theme of National Voters' Day has been "Electoral Literacy for a Strong Democracy". He said, "Voting is the right of every responsible citizen, because it  decides  whose government will be formed in country or states." The Deputy Commissioner also administered the oath of participation to the nation to the people present.
Tehsildar Election Upendra Shukla gave detailed information about National Voting Day.
On this occasion, the artists of the Information and Public Relations Department and students of various educational  institutions made the voters aware about the use and importance of the franchise through cultural programs.
SDM Harish Gajju, officials of various departments, teachers of schools and dignitaries were present on the occasion.