District Legal Services Authority honours media persons who worked as corona warriors
District & Sessions Judge appealed to the media persons to continue making people aware about ways to save themselves from COVID 19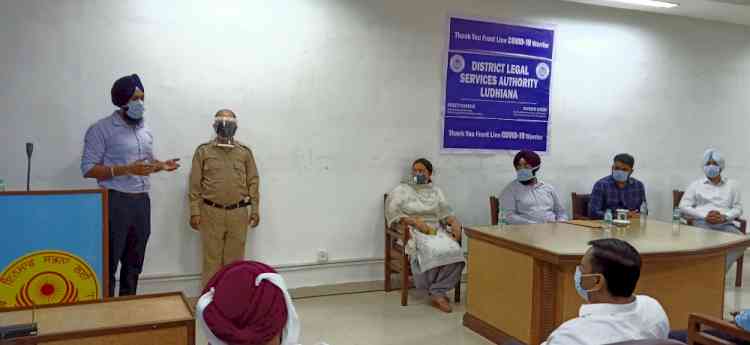 Ludhiana: The District Legal Services Authority (DLSA) Ludhiana today honoured the media persons of different newspapers and TV channels who worked as Corona Warriors during the COVID 19 pandemic. Mr Gurbir Singh, District & Sessions Judge Ludhiana-cum-Chairman, DLSA Ludhiana was the chief guest on the occasion.
Various media persons were specially honoured by the Chief Guest at a function organised by DLSA in the conference hall at District Courts Complex, here. In a bid to ensure that the immunity of media persons is good, they were distributed turmeric powder, tulsi powder, hand sanitiser, sodium hypochlorite and face shield. He also appreciated their role in spreading awareness amongst the masses regarding COVID 19.
On this occasion, the District & Sessions Judge appealed to the media persons to continue making people aware about ways to save themselves from COVID 19.
Mrs Preeti Sukhija, Secretary, DLSA Ludhiana, thanked all the journalists for their role played during the COVID 19 pandemic. Mr Vikrant Kumar, Civil Judge (Senior Division) and Mr Prabhjot Singh Kaleka, Chief Judicial Magistrate, Ludhiana, were also present on the occasion.