District Administrative Complex to be beautified; all roads to be re-carpeted: Bharat Bhushan Ashu
Lays foundation stone of project worth Rs 1 crore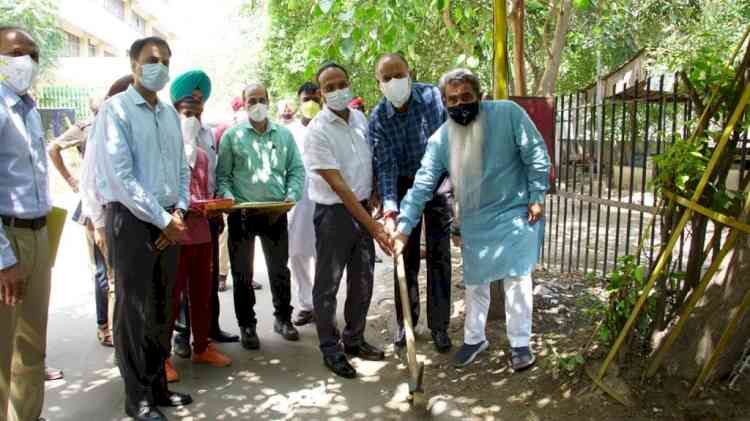 On occasion of World Biodiversity Day, plants a tree sapling in DAC
Ludhiana: Punjab Food, Civil Supplies & Consumer Affairs Minister Bharat Bhushan Ashu today informed that the District Administrative Complex (DAC) would be beautified and all the roads would be re-carpeted with a cost of Rs 1 crore.
Accompanied by Ludhiana Improvement Trust chairman Raman Balasubramaniam, Deputy Commissioner Varinder Kumar Sharma, ADC (D) Sandeep Kumar, ADC (G) Amarjit Bains, Harjinder Singh, IAS (Under Training) and other senior district administration officials, Bharat Bhushan Ashu, in a brief ceremony, today laid the foundation stone of the beautification and re-caroeting of all roads of the District Administrative Complex Ludhiana.
Bharat Bhushan Ashu said that DAC being the district headquarters, a large number people visit this premises as important government offices are located here. He said that interlocking tiles, proper footpaths for pedestrians, plantation of shady trees, and construction and re-carpeting of all roads in the premises would be carried out by Ludhiana Improvement Trust.
He assured that the Capt Amarinder Singh led Punjab government is committed for carrying overall development of the state and that is why projects worth thousands of crores are already underway in Ludhiana.
On the occasion of World Biodiversity Day, Ashu also planted a tree sapling in the complex.