District administration plays key role in difficult time of corona epidemic:  MP Manish Tewari
says Punjab government is serious about safety as well as development of the state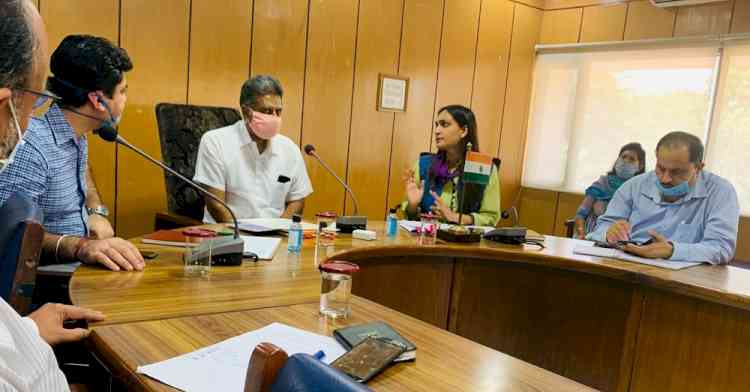 Rupnagar: The district administration has played a pivotal role in surviving the Corona epidemic during this difficult time. Everyone has done their best to prevent this epidemic as much as possible. This was stated by the Member of Parliament Manish Tewari while addressing a meeting of the officers and staff at District Administrative Complex. He was accompanied by Deputy Commissioner Sonali Giri and SSP Swapan Sharma.
Manish Tewari, Member Parliament said that it was due to the hard work of all, that the district administration was able to control the Corona epidemic. Under the plan prepared by the district administration, the efforts made from health services to providing food to the needy have been successful, he said. While the state government is working hard to get the industrial establishments back on their track, efforts are being made to uplift the traders, laborers and everyone economically. "We need to change our lifestyle to avoid this epidemic," he said.
Manish Tewari, Member Parliament said that there was a need to further strengthen the health services in the rural areas of the district. He discussed in detail the difficulties faced by the concerned officers of each department including the Health Department, Police Department in dealing with the epidemic and urged the officers of the departments to further strengthen the existing system in their respective departments.
He said that the district administration should come up with a plan to rehabilitate the migrants who have gone back to their hometowns and if they want to come back to the state then efforts should be made for their return. He said that all these labourers have played a pivotal role in the upliftment of the state and he hoped that after coming out of this hour of crisis they would return to their work, for which the state government will extend full cooperation to them.
He appealed to all the residents of the district as they have cooperated to control the epidemic. In the same way follow the rules issued by the health department for health care.
Among others Pawan Dewan Chairman Punjab Large Industrial Development Board, Additional Deputy Commissioner Amarjit Singh Gujral, Assistant Commissioner Inderpal, Dr. HM Sharma Civil Surgeon Ropar, and other officers and staff of various departments were also present on the occasion.