District Administration organises special camps for generation of e-cards under Ayushman Bharat-Sarbat Sehat Bima Yojna in district
Administration to adopt the multi-pronged approach for increasing enrolment of beneficiaries under: DC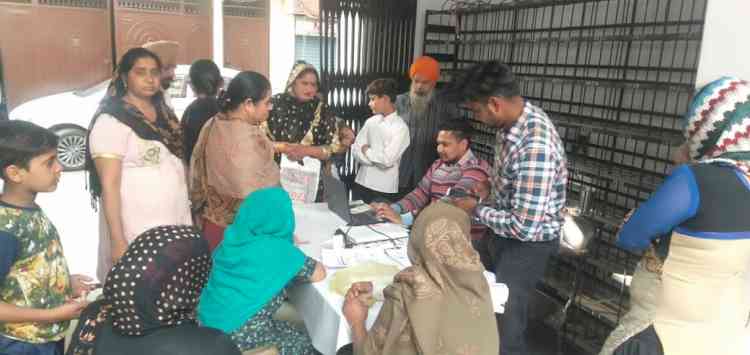 Ludhiana:  To ensure the benefits of the Ayushman Bharat-Sarbat Sehat Bima Yojna to the targeted beneficiaries at the grass-roots level of the district, the district administration is organising several camps in different areas of the district. 
The District Administration has chalked out a multi-pronged strategy for stepping up the enrolment under the ambitious cashless health insurance program of the state government by involving beneficiaries, residents, elected representatives and all stakeholders.
Deputy Commissioner Varinder Kumar Sharma today said that under the scheme, cashless treatment up to Rs 5 lakh is being offered to the beneficiaries. He said that e-smart Ration Cardholders, farmers who have been issued J-Forms by Punjab Mandi Board and their family members, traders registered with Excise and Taxation Department and construction workers registered with the construction worker's welfare board and all journalists accredited to the state government or holding yellow cards are eligible under the scheme.
He said that cashless secondary care & tertiary care treatment of 1396 packages in public and empanelled private hospitals of Punjab is being given to the people under the scheme. Further, he mentioned that the list of empanelled hospitals and eligibility of the beneficiaries can be viewed at sha.punjab.gov.in.
Deputy Commissioner Varinder Kumar Sharma said that the district administration is already holding several enrolment camps in rural Ludhiana and for the urban population, the Sewa Kendras, Common Service Centres (CSCs) and Suvidha Kendras are already on the job to maximise the coverage of targeted beneficiaries.
Soliciting the support of elected representatives, he asked them to sensitise the people about the benefits of the program. He further said that the administration would also organise camps in their areas where the people can enrol themselves and asked the officials work to prepare the roster of the camps accordingly to ensure none of the beneficiaries remain left out of the scheme.
He added that the eligible beneficiaries could get their e-card generated through a network of 100 Common Service Centres across the district at Rs 30 and the same service can be obtained in the government hospitals in the district free of cost.