District Administration organises mock drill at village Ratipur to gauge its preparedness to combat coronavirus
Different departments participate in mock drill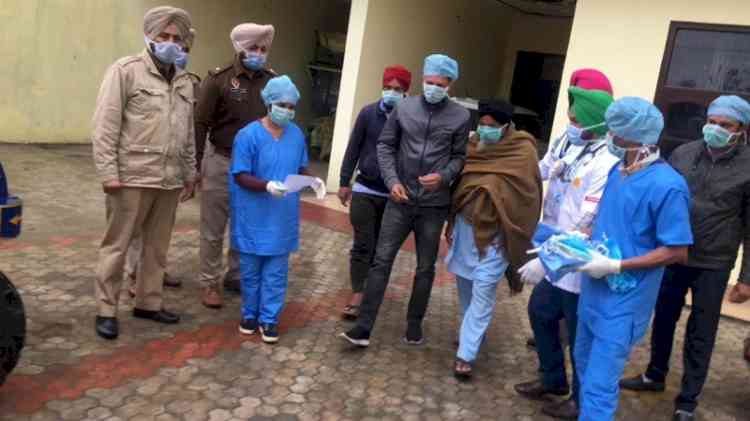 Ludhiana: In order to sensitise the government machinery towards quick response for dealing with cases pertaining to Novel Coronavirus, the district administration today organised mock drill at village Ratipur near Machhiwara Sahib area of district Ludhiana.
    During the mock drill, the team surveyed in the area during which a detailed examination of the residents was done. The team asked the details of members of these houses and enquired about whether anyone was ill or having symptoms of flu like cough and cold.
    The team comprised Sanitary inspectors, Health workers, Local Asha workers, Doctors , a Non Gazetted Officer from Police besides Constables men and women visited the village and also enquired about whether any person from the virus infected country has returned in the village. They also enquired about with whom the foreign returned person have met or contacted to gauge that the virus could not have transmitted to any other person. The teams also took the 'Mock Virus infected fake patients' to the respected quarantine centres in the Ambulances.
    SDM Samrala Mrs Geetika Singh said that the move was aimed at checking the response time that a Rapid Response Team might take if some virus infected patient was found. She said that the entire drive was aimed at ensuring that no patient faces any sort of problem in getting prompt treatment facilities. She said that the district administration was duty-bound to keep a check on the spread of this flu.
    She further said that every effort was made to check the spread of this disease for which public support was very important and said that the only way of checking the transmission of this disease was to generate maximum awareness amongst the public for which a mass awareness campaign has been already embarked. She informed that so far not even a single case of the virus has been detected in the district.
    Deputy Commissioner Mr Pradeep Kumar Agrawal said that more such mock drills would be organised in other parts of the district as well. He urged the residents to not panic and to assist the district administration in these mock drills.