District administration directs private hospitals to enhance bed capacity to deal spike in second Covid wave
Constitutes teams to conduct audit in private hospitals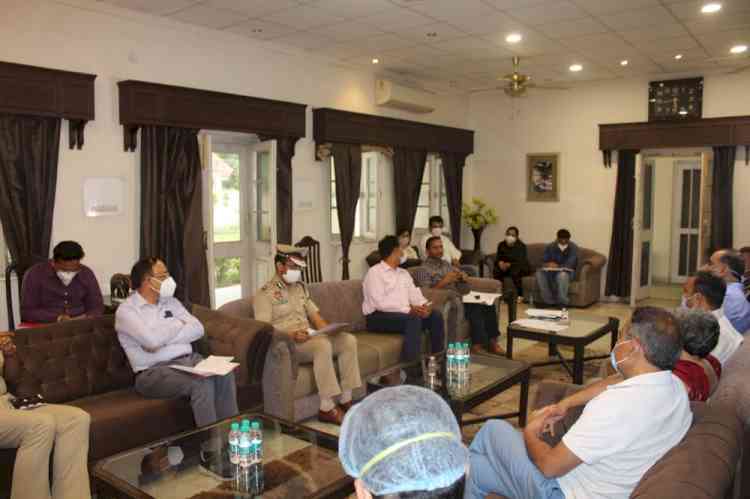 Ludhiana: In a move to strengthen its medical and health care infrastructure to deal with the spike in covid cases in the fresh wave, the Deputy Commissioner Varinder Kumar Sharma and Commissioner of Police Rakesh Agrawal on Thursday directed the private hospitals to augment its bed capacity without any delay. 
Further, they have also ordered them to defer elective surgeries for time being to ensure bed availability to the critical patients in view of the surge in caseload. 
The Deputy Commissioner and Commissioner of Police said that there is an immediate need to increase the bed capacity to deal with the second wave by ensuring quality treatment to the patients and reducing mortality. 

They further said that administration has also constituted teams to conduct the audit of the bed capacity which these teams would start from Saturday. 
Presiding over a meeting with private health institutions, Deputy Commissioner and Commissioner of Police told that next fortnight is crucial to contain pathogen immediately. 
They said that the bed capacity must be increased immediately as equal it was earlier to ensure every patient gets bed and
best possible care. 
They said that the priority was to take care of old and vulnerable population with co-morbidities that were at high risk of developing severe illness and appealed the people to don't take the flu-like symptoms lightly and contact the doctors soon.
They said that the people should not get panicky as more cases were reported in the city due to aggressive testing.
They appealed the people to strictly adhere to masking, social distancing and washing hands frequently. 
They added that as per experts, the second wave of contagion is more intense so that the district administration is duty-bound to ensure the availability of an adequate number of beds with ICU facilities and oxygen support to save each and every life.
They stated that the administration is ready to tackle the second wave effectively and all possible measures are being taken to control the situation.
They reiterated that district administration was fully equipped with resources and manpower to combat Covid-19 second wave and no stone would be left unturned for this noble cause adding that war against novel Coronavirus would be won with the support of people, who could contribute their share by strictly following the Covid Safety protocols including wearing masks, maintaining social distancing and washing hands frequently.
Further, they urged all eligible to get Covid jab immediately which will prevent the virus to spread further. 
Prominent among present occasion included Joint CP J Elanchezhian, ADC (Development) Sandeep Kumar, SDM Dr Baljinder Singh Dhillon, civil Surgeon Dr Sukhjeevan Kakkar and others.