'Disney+ Hotstar Streams Unconventional Romance 'Kuch Love Jaisa' featuring Aadar Malik and Simran'
The four-part series captures a modern tale of love between two single parents featuring stand-up comedian, Aadar Malik and TV actress, Simran Kaur Hundal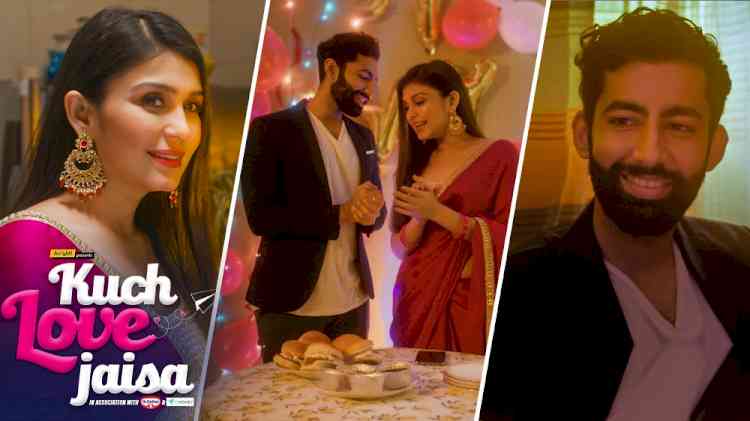 Kuch Love Jaisa- Web Series.


New Delhi, December 7, 2021: 'Kuch Love Jaisa' , a contemporary tale which revolves around mature relationships and love, is attracting viewers with its fresh approach towards the subject. Streaming on Disney+ Hotstar, the four-part series, 'Kuch Love Jaisa', chalks out a romantic tale of two single parents juggling their busy lives with parental responsibilities, featuring Aadar Malik, Simran Kaur Hundal and Badri Chavan.  
 
Created by Rusk Studios and Alright, 'Kuch Love Jaisa' is a modern take on love and mature relationships. It is a tale of two single parents who find their lives intertwined after a comical misunderstanding. Their juxtaposing personalities- Shashank, a carefree stand-up comedian and Roshni, a devoted and nurturing teacher- find commonalities in their mutual loneliness.  
 
Shashank and Roshni's tale is off to a rocky start until their kids unknowingly play cupid and make them work as a team. The subtle and low-key romance of the show aims to capture the picture of a love that is responsible, a love that cements in a form that is not found in the average textbook romance, and a love that is unplanned and unexpected.   
 
The intricacies of this web series is ringing in the future of entertainment and setting the precedent for unconventional romance for OTT platforms. Aadar Malik's portrayal of Shashank would resonate with every single father out there who is trying to balance his personal life with the responsibilities that come with being a parent. Roshni, being an independent woman embodies a fresh approach to how entertainment media views a single mother. Badri Chavan's Puneet plays a vital role of bringing a comic relief to the show providing avenues for the show to juxtapose the maturity and modernity of the love story.