Disabilities are misunderstood due to insensitivity
Say experts at the national seminar organized at Amity University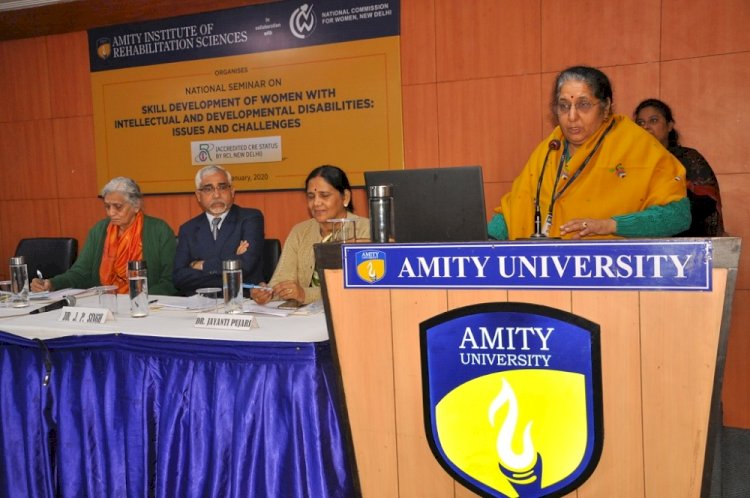 Dr. Balvinder Shukla addressing the gathering.


Noida: "Everyone has abilities. All we need is to identify and nurture these abilities," shared Padma Shri Dr. Uma Tuli, Founder & Managing Secretary, Amar Jyoti Charitable Trust, New Delhi at the National Seminar on "Skill Development of Women with Intellectual and Developmental Disabilities: Issues and Challenges" Organized at Amity University.
 
The national seminar organized by Amity Institute of Rehabilitation Sciences, Amity University, Uttar Pradesh in collaboration with National Commission for Women saw in depth discussions on the various facets of challenges faced by women with intellectual disabilities and how they could further be empowered with the aid of developing policy measures and changing social paradigms.
 
Chief Guest Kishor B. Surwade, DDG, Department of Empowerment of Persons With Disabilities (PwDs), Ministry of Social Justice Empowerment, Government of India shared figures of Census 2011 that point towards the low level of education of women with disabilities as compared to their male counterparts and their scant representation in the employment scenario. "The Government has adopted multipronged strategy to improve the employment opportunities for persons with disabilities through educational empowerment, skill development and promoting employment including self-employment of PwDs," shared Kishor B. Surwade.
 
He also informed about the enactment of the Rights of Persons with Disabilities (RPwD) Act, 2016 by the government came into force from April 2017. "The Act further mandates the Government to formulate schemes and programmes including provisions of loan at concessional rates to facilitate and support employment opportunities for their vocational training and self-employment," said the chief guest. He also urged the private sector to come forward to meet their social responsibility obligations and take pro-active steps to provide placement for PwDs in their establishment and industries, especially through their CSR activities.
 
Dr. Uma Tuli, stressing on the need to highlight and create awareness about identification and nurturing of abilities, shared her vision for the way forward and stated for a need to address policy gaps and to formulate and implement policies as per the need of women with disabilities. "There is a need to provide accreditation for vocational training courses and also establish linkages with industry for developing training programmes, which should be market-oriented," said Dr Tuli. She further added that it was important to ensure a steady flow of semi-skilled and skilled human resources in different trades in industry and for self-employment along with creating awareness about the creative abilities of women with disabilities amongst society and employers. .
Prof. (Dr.) Balvinder Shukla, Vice Chancellor, AUUP called for a need to bring about a change in the mindset of the society in accepting the challenges faced by the individuals with disabilities and their families along with government initiatives. "Lack of sensitivity is one of the biggest disability thronging our society. The outcome of the deliberations of this seminar will help in building future programs and be a roadmap to empower women with disabilities," shared Dr. Shukla.
 
The deliberations in the two-day seminar will also focus upon themes like Creating Employment Opportunities for Women with Intellectual and Developmental Disabilities; Accessibility issues in Training and Employment of Women with Intellectual Disability; Entrepreneurial Skill development for Empowerment and Independence and National Initiatives for Skill Development of Women with Intellectual and Developmental Disabilities. Present on the inaugural day of the seminar were Dr. Himangshu Das, Director, NIEPMD, Dr. Stuti Narain Kacker, Chairperson, NCPCR, GoI and Dr. J.P. Singh, Former Member Secretary, RCI, New Delhi and Former Chairman, AFDD, AUUP.