DIPS GB public school students shine in PSEB Exam
100 per cent pass percentage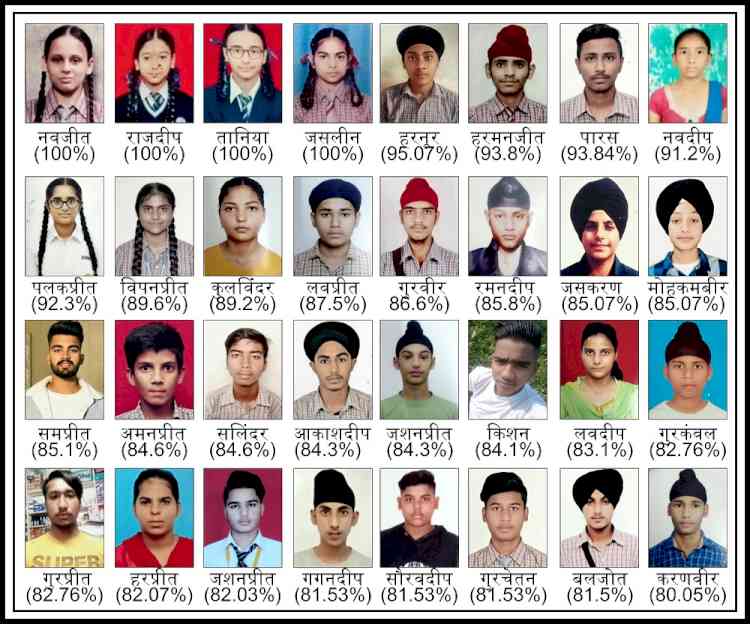 Jalandhar: Punjab School Education Board recently announced class 10 and 8 results in which DIPS GB public school students performed outstandingly and has a 100 percent pass percentage. MD Sardar tarwinder singh, CEO Monica Mandotra school director Lakhwinder kaur, DIPS GB public school begowal principal yukti, DIPS GB public school dhilwan coordinator mandeep congratulated the students who performed well and gave them their best wishes for their coming future. PSEB affiliated GB public school dhilwan's class 10 students like navjit kaur scored 100%, Harnoor singh 95 %, harmanjeet singh 93.8%, paras 93.84%, Navjot kaur 92.3%, gurjot singh and navdeep  kaur 91.2%, vipanpreet 89.6%, gurvir singh 86.6%, jaskaran singh ansd mohkambir singh 85.07%, Amanpreet singh and salwinder 84.6%, akshdeep singh 84.3%, harmanjit 83.84, gurkanwal singh and gurpreet singh 82.76, %, gagan 82.7%, Harpreet Singh 82.07%, Gagandeep Singh, Saurahdeep and Gurchetan Singh 81.53% and Baljot 81.05%,. Class 8 Students Tania, Rajdeep, Harneet kaur and jasleen kaur scored 100%.
GB public school begowal's class 10 students palakpreet kaur scored 92.3%, kulwinder kaur 89.2%, Ramandeep Singh 85.8%, Sumpreet 85.1%, Jashanpreet Singh 84.3%, Lovedeep kaur 83.6, Jashanpreet 82.3%,karanveer Singh 80.5%. lovepreet of class 8 scored 87.5% and kishan of the same class 84.1%. 
MD Sardar Tarwinder Singh and CEO Monica Mandotra encouraged the meritorious students to keep making DIPS and their families proud. They also congratulated school principals and faculty. CAO Ramneek Singh and jashan Singh persuaded the outstanding students to keep working hard and reach their life goals.