Differently-abled team from Narayan Seva Sansthan meet Minister of finance, health, medical and family welfare 
The team presented a document of vision for the next 5 years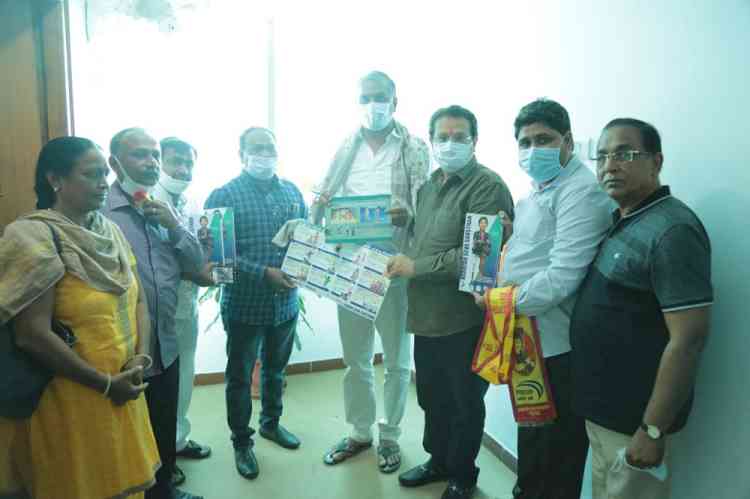 Hyderabad, December 3, 2021: To banish the odd socio-economic divide between the differently-abled and those who are normal, a team of differently abled individuals from Narayan Seva Sansthan met T Harish Rao, Minister of finance, health, medical and family welfare in Hyderabad. The cause was to present a vision for the differently-abled in the next 5 years. T Harish Rao, Minister of finance, health, medical and family welfare, greeted differently the team from NSS and wished them a good future and healthy life. The visit was on account of International Disability Day.
Speaking on this campaign, Mr. Prashant Agarwal, President, Narayan Seva Sansthan said, "We have seen the tremendous inequity that the differently abled people suffer from rural and urban areas especially with those who are in the mainstream. In India, around 2.68 crores differently-abled people are suffering from common issues like lack of access to good employable opportunities in the Government and Private sector. We took this initiative to present our vision through various campaigns and the groundwork that needs to be done to bring in equity for the differently-abled. The camps in different cities conducted by NSS are trying to help them by offering good quality limbs which are free of cost."
Apart from this visit, various programs were organized on account of the International Disability Day in other NSS branches and its institutes in Surat, Hyderabad, Lucknow, Mathura, Baroda, Ahmedabad, Mumbai, Ludhiana, Delhi, Nagpur. Here in various locations, the individuals from NSS met the administrative officers to initiate campaigns and to do special work for the differently abled and the launch new programs for the differently-abled.
In December, NSS will organize artificial limb camps in Jaipur, Udaipur, Parbhani, Ludhiana, Ahmedabad, Aligarh, and Agra where free-of-cost limbs will be distributed.