Dharamshala MLA Vishal Naihria laid foundation stone of water storage tanks in Sakoh area
MC elections in Dharamshala are due next month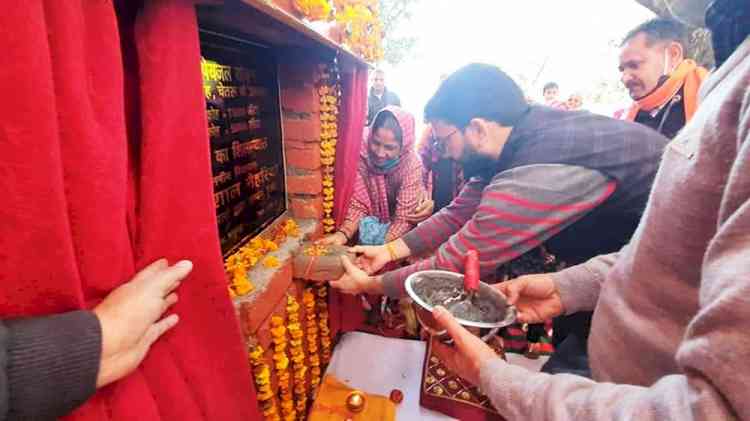 Dharamshala: Vishal Naihria, BJP MLA of Dharamshala today laid the foundation stone of drinking water tanks with a storage capacity of 65 thousand liters in Gadiyada of Sakoh and 75 thousand liters in lower Sakoh and 50 thousand liters in upper Sakoh of Municipal corporation Dharamsala. He said, "With this, more than 4 thousand people of Sakoh and the adjoining area will get better drinking water facility and will get rid of the problem of the shortage of drinking of this area for years to come."
He said that development is being given impetus in Dharamshala Municipal Corporation and basic infrastructure is being developed to provide better facilities of electricity, drinking water, parking, health and education to its citizens. He said that the present state government is taking effective steps for proper development of urban bodies and rural areas.
Vishal Naihria said that during the tenure of the present state government new dimensions of development have been established in Dharamshala assembly  area and in the coming time too , effective steps will also  be taken to put new projects on the ground in different areas so that the people of Dharamshala will get full benefits . On this occasion, Executive Engineer of Jal Shakti Department, Shravan Thakur, SDO Sandeep Guleria, BJP leader RK Kapoor, Mitra Singh, Lalman, Om Prakash, Naresh Kumar, Samparup Barsen, Atma Ram, Veer Singh, Capt. Joginder Singh, Y T Dhiman , Amarjeet, Sumit Sharma and other dignitaries were present
Municipal Corporation elections in Dharamshala are due next month, where at present Congress party is in power.