Dev Samaj College of Education holds webinar on sustainable development in covid era
Around 153 participants all around country joined webinar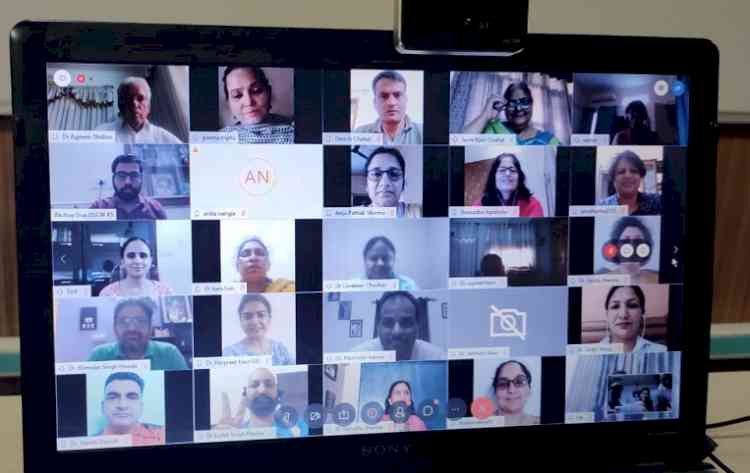 Chandigarh: Dev Samaj College of Education (DSCE), Sector 36B, here in association with Directorate of Sports, Panjab University & Journal of integrative Medicine Case Reports Published from PGIMER, organised a webinar on the theme 'A Roadmap to Sustainable Development through Sports, Yoga, Art, Music and Culture during Covid-19'. The Webinar started with the college prayer. Dr. Neeru Malik, Organising secretary, elaborated the theme of the webinar. Dr. (Mrs.) Agnese Dhillon, Principal, DSCE, Dr Rakesh Malik ,Deputy Director,  Physical  Education and Sports, PU, and Prof. Akshay Anand Department of Neuro Science, PGIMER, welcomed the Chief Guest Prof. Raj Kumar, Vice Chancellor, PU, keynote speakers, speakers and the participants.
Shriman Nirmal Singh Ji Dhillon, Secretary, Dev Samaj and Chairman DSCE addressed the virtual gathering with a message that referred to the present COVID pandemic. He said that, "Everything ends whether good or bad, it doesn't last forever. Problems are not stop signs, they are guidelines. It gives us a chance for doing the best."
 
The Chief Guest Prof. Raj Kumar, Vice Chancellor, PU, in his address appreciated the collaborative efforts done by all three institutions to contribute for sustainable development through Sports, Yoga, Art, Music & Culture during Covid-19 Pandemic. He mentioned that this webinar will definitely be of great significance to make any policy during & after this pandemic. The keynote speakers of the webinar were Ms. Nadia Moreno, Senior Program Officer, Child & Youth Development at Children International, UK , she spoke on Yoga & Sports,  Dr. Vasudha N.sharma, Medical Director of  Vivekananda Health Global spoke on Yoga & Meditation and Prof. Pankaj Mala, Department of  Music, PU, delivered a talk on Music ,Art  & Culture. The theme in all the talks of course was roadmap to sustainable development during COVID 19.
 
Around 153 participants all around the country joined the webinar. More than 70 papers were   presented regarding theme of the webinar. The organizing secretary Dr. Neeru Malik , Dr. Rakesh Malik, Dr. Richa Sharma & Prof. Akshay Anand thanked the participants & speakers. Technical Assistance was given by Ms. Rajni Sobti ,Dr. Robin Inder Pal Singh and Mr. Prashant Arya.