Dev Samaj College of Education holds its 36th annual sports meet
Preeti declared Best athlete and Manju Best sports person of the year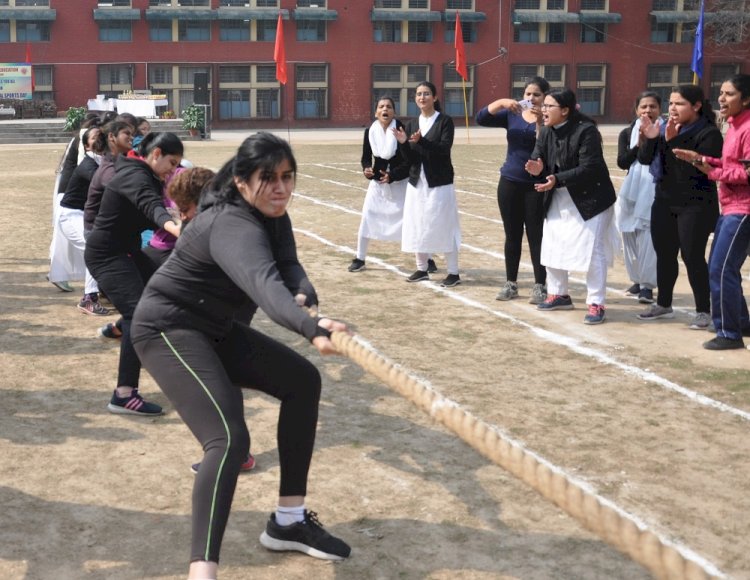 Chandigarh: Dev Samaj College of Education, Sector 36 B, Chandigarh organised its '36th Annual Sports Meet' here at the sports ground of I S Dev Samaj Senior Secondary School, Sector 21.
Preeti of B.Ed. 2nd year was declared 'Best athlete of the year', as she claimed gold in the 100 m race, followed by a top finish in 4 X 50 m relay and sack races. She also clinched the 2nd position in the shot put and obstacle race events.
Manju of B.Ed. 2nd year was adjudged the 'Best sports person of the year.' Manju won the first position in 50 m race and came third in 100 m race.
 
In 100 m race Preeti, B.Ed. 2nd year won the gold, while Preeti and Manju of the same batch settled with a silver and bronze respectively. In the 4 x 50 m relay race Preeti, Sangeeta, Nitu and Priyanka (B.Ed. 2nd year) clinched the gold, while Suruchi, Harmanpreet, Udita, Nitu (B.Ed. 1st year) stood 2nd. Mrigna (B.Ed. 1st year) clinched the gold in the shot put event. Preeti (B.Ed. 2nd year) and Usha (B.Ed. 2nd year), settled at 2nd and 3rd positions respectively.
 
In the tug of war, B.Ed. 2nd year, Section A & B were declared 1st and 2nd respectively. In slow cycling race event, Muskan (B.Ed. 1st year) bagged the gold, while Suruchi and Neetu of the same batches were declared 2nd and 3rd respectively.
 
The prize distribution ceremony was graced by Dr. Parminder Singh – Director, Sports Department, Panjab University, Chandigarh, who encouraged  the students to participate in athletics and sports to enrich their lives with the benefits of physical activities.
 
Dr. Agnese Dhillon, Principal, DSCE 36 B, Chandigarh articulated the significance of Sports in students' life. She stated that winning or losing in sports is not important but the happiness originating from participation in sports is a highly cherished trophy.  
 
Special fun activities for faculty members, non-teaching staff and supporting staff were also conducted.