Deputy Commissioner makes emotive appeal to private hospitals to double number of beds
Assures there is no shortage of oxygen supply in district; warns against hoarding of oxygen cylinders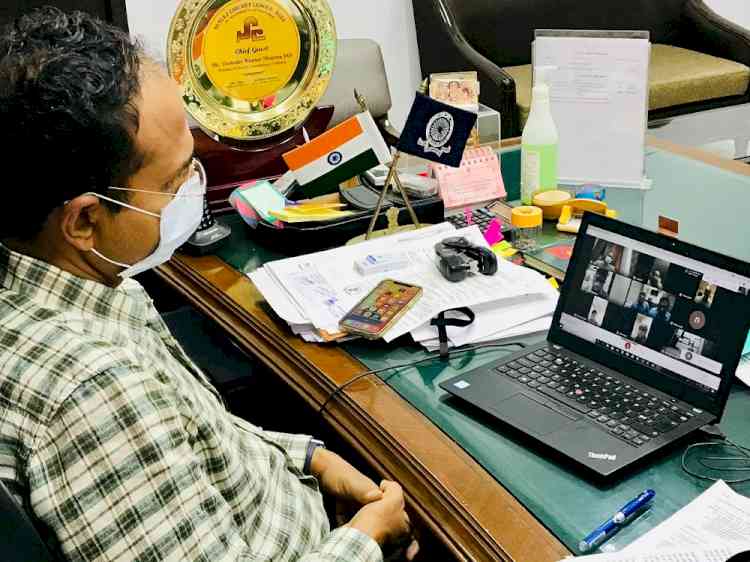 Ludhiana:
    Deputy Commissioner Varinder Kumar Sharma today made an emotive appeal to private hospitals to double the number of beds in their premises. Interacting with the representatives of all prominent private hospitals of district through video conferencing today, the Deputy Commissioner urged them to listen to their conscious while taking any decisions as people have high hopes from all of us.
    However, the Deputy Commissioner also assured the residents that there is no shortage of oxygen in the district, so there is no need to panic.
    The Deputy Commissioner said that ever since the Covid-19 pandemic shook us all, the doctors have always remained at the forefront in protecting the patients. He urged the managements of private hospitals to double the existing number of their beds earmarked for Covid19 patients. He said that it is a war like situation and private hospitals should expand their bed capacity to the maximum, so that no patient is left without beds.
    He also urged the residents to follow all Covid19 related guidelines in the interest of society. He said that if people wear masks, maintain social distancing and hand hygiene, they would not fall sick, hence the need for beds would not arise at the first place. The hospital managements assured the deputy commissioner that they would be increasing their bed capacity to the fullest.
    The Deputy Commissioner said that there is an immediate need to increase the bed capacity to deal with the second wave by ensuring quality treatment to the patients and reducing mortality. He said that the bed capacity must be increased immediately as equal it was earlier to ensure every patient gets bed and best possible care. 
    In his appeal to the hospitals, the Deputy Commissioner said every single life is precious and that the hospitals should ensure no person entering their premises dies due to lack of treatment.
    He also assured the residents that there is no shortage of oxygen supply in the district. He said that except nine industries including Ampoules and vials, Pharmaceutical, Petroleum refineries, Steel Plants, Nuclear energy facilities, Oxygen cylinder manufacturers, Wastewater treatment plants, Food and water purification and Process industries which require the uninterrupted operation of fumes processes as approved by Punjab Government, all other industries have already been prohibited the use of oxygen for the industrial purpose to meet the rising demand for oxygen for Covid-19 patients.
    He said that different teams have been formed that would visit industries as well as hospitals to check hoarding of oxygen. He warned that any violation in this regard would be strictly dealt with.
    The District Magistrate said that elective surgeries have also already been deferred beyond April 30, 2021 till further orders.