Deputy Commissioner gets jab of covid19 vaccine today
Assures he is feeling completely fine and healthy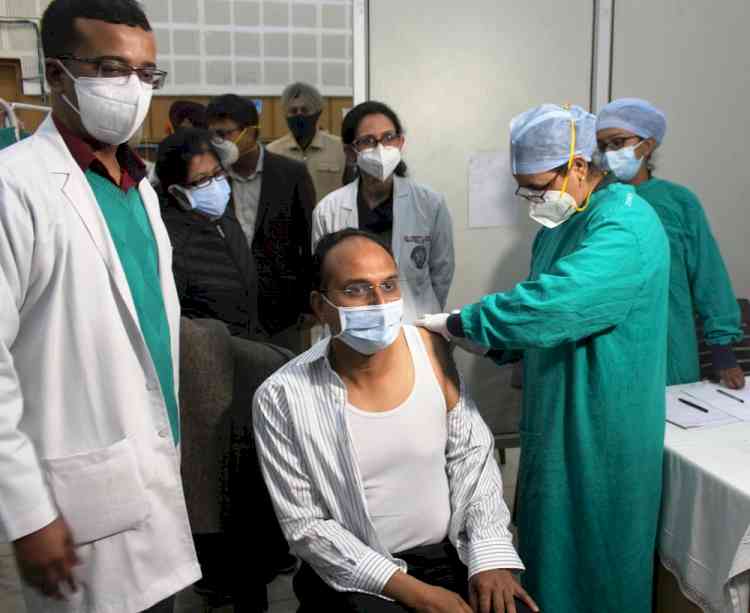 Ludhiana: After receiving the Covid 19 vaccine jab at Dayanand Medical College and Hospital, here today, Deputy Commissioner Mr Varinder Kumar Sharma assured the residents that he is feeling completely fine and healthy. He also urged the residents not to panic or believe in rumours spread on social media.
Later, he also interacted with the residents through his weekly Facebook live session on the official page of District Public Relations Office Ludhiana. He was also accompanied by Dr Bishav Mohan, Professor of Cardiology and Dr Ashwani K Chaudhary, Professor & Head, Community Medicine, from Dayanand Medical College & Hospital, Ludhiana.
In his interaction, the Deputy Commissioner informed that after getting vaccinated at around 11 am, he would be chairing two important meetings in his office, hold his court and later would even go cycling. He informed that around 17,000 healthcare workers of district Ludhiana out of total around 34,000 have been vaccinated and their vaccination would continue till February 19, 2021.
He said that in the second phase, around 20,000 front line workers have been registered in district Ludhiana, which include around 11,000 police personnel, around 8,000 sanitation workers and around 1,000 officials of revenue and other associated departments. He informed that till date around 2,700 front line workers have been vaccinated and we hope to cover maximum front line workers by March 5, 2021.
The Deputy Commissioner said that the Punjab government has already made it clear that this vaccination is totally voluntary, but still all people should get themselves vaccinated because this vaccination is totally safe. He said that Chief Minister Capt Amarinder Singh has already started Mission Fateh, under which this vaccination is being done. He said that everyone should understand that if we want to get vaccinated at a later stage, our turn might not come easily.
Dr Ashwani K Chaudhary said that all vaccinated persons are completely fine and requested everyone to get themselves vaccinated in the interest of their families and society.
Dr Bishav Mohan informed that lakhs of people have already got themselves vaccinated in the country. He urged the residents to come forward and get themselves vaccinated as it is totally safe. He said that this vaccine is a weapon that we can use to eradicate Covid19 from our society.