Deputy Commissioner conducts surprise checking at oxygen plant in Giaspura
Directs all industries to hand over empty or filled oxygen cylinders to plants to meet the rising demand of this life-saving gas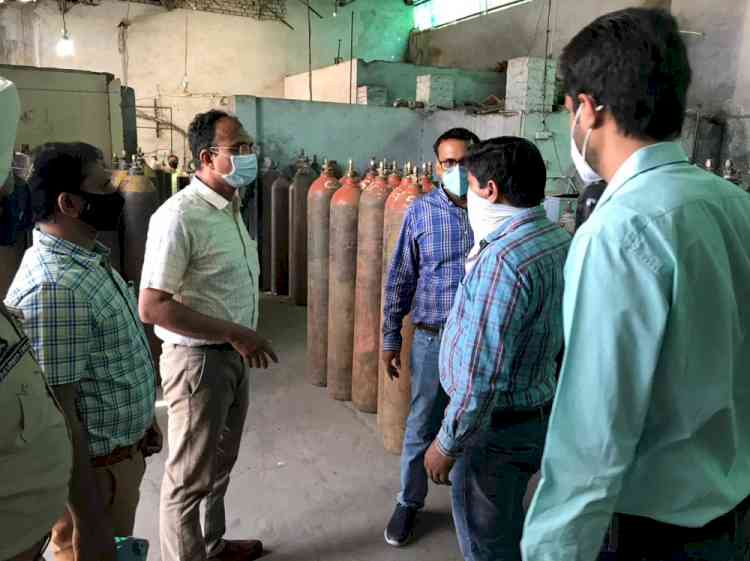 Ludhiana:
Amid rising demand for oxygen gas for treatment of serious Covid patients in the hospitals, Deputy Commissioner Varinder Kumar Sharma on Monday inspected an oxygen generation plant located in Giaspura area of Ludhiana city.
While interacting with plant owners, the deputy commissioner directed them to ensure that no supply to non-Covid hospitals and any kind of industries was made to tackle the requirements at Covid care centers. Sharma also pushed for an increased production at the plant level to cater to the local needs for oxygen gas. 
The DC further urged all the industries to hand over their empty or filled oxygen cylinders to these plants as the same were required for filling oxygen gas so that they could be provided to hospitals to save many precious lives battling Covid-19 disease. 
The DC also issued magisterial orders under the National Disaster Management act 2005 & Epidemic Disease Act-1897 directing all industries and non-Covid hospitals to return their empty oxygen cylinders to oxygen generation plants with immediate effect to make them enable to fulfill the requirements at local hospitals. 
Besides, he also ordered that no oxygen supplier will supply medical O2 to non-covid hospitals/any Industry/Individual adding that oxygen suppliers will supply medical oxygen only to Covid hospitals in consultation with nodal officers. 
He also warned those not adhering to these directions to face action under the NDMA Act, 2005 and epidemic disease Act, 1897.